'For Honor' Beta Servers: How to pre-load the open beta for PS4, Xbox One and PC right now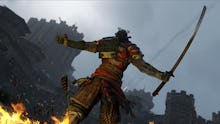 Ubisoft surprised us last week by announcing that the previously invite-only beta for For Honor would be opening up to the general public shortly before the game's release. The beta doesn't start until Feb. 9, but you can actually install it right now so you don't have to waste time during its short duration downloading the file.
How to pre-load the For Honor open beta on PS4, Xbox One and PC
The beta will run until Feb. 12 on Xbox One, PS4 and PC. To pre-load it just go to the Xbox Store, the PlayStation Store or Steam and search for "For Honor Beta." You can download it on Steam right now and grab it for PS4 here.
Be prepared to clear some hard drive space on Xbox and PS4. The beta download is around 27 gigabytes, according to GameSpot. 
Since the game comes out on Feb. 14, this is really more of a time-limited multiplayer demo than an actual beta. If you're still unsure about For Honor's deep, online melee action, this is certainly worth checking out.
More gaming news and update
Hungry for more video game news? Check out the latest from Mic, including a recap of the Halo Wars 2 beta, a breakdown of the latest Diablo 3 update, the newest roster addition to Injustice 2 and a closer look at the Pokémon Go Red Scale rumor.