Nikki Haley: 5 things to know about the UN ambassador's stance on climate change science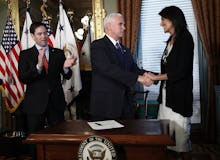 It's no secret that President Donald Trump's administration is skeptical of climate change science. His head of the Environmental Protection Agency has fought regulation, and mentions of climate change have been scrubbed from the White House website. Another key member of Trump's team, though, hasn't been as pressed on her climate record as some others – new United Nations Ambassador Nikki Haley. Here's what you need to know about Haley and her new role.
Does climate change matter in her job?
Emphatically yes. The United Nations does a lot of work to combat climate change, most notably the 2015 Paris Summit where nations gathered to talk about how to go about solving the problem. In her new role. Haley could impact the role the United States has in helping or hindering the U.N.'s attempts to fight climate change.
Does she believe man-made climate change is real?
This isn't clear. She isn't a hardcore denier like some members of the Trump administration, but she has never explicitly said that climate change is a problem. ThinkProgress notes that during her time as governor of South Carolina, Haley was accused of attempting to hide a study detailing how climate change could impact the Palmetto State.
What action could she take?
As U.N. ambassador, Haley can't change climate change policy directly, but she can help the executive branch stop directing U.S. dollars to U.N. programs designed to fight climate change.
Haley likely isn't as offensive to environmentalists as new EPA chief Scott Pruitt, who has said in the past that climate change isn't real and would have a much more direct role in tearing down environmental regulations. Still, her reputation and her new position aren't good news for anyone who thinks green.