Where are all the transgender and gender-nonconforming designers?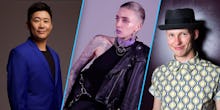 Leo Roux used to go shopping in the men's department and find nothing at all. The small sizes were still too big. His hips were too wide. Pants were too long. 
Although he was looking to fashion as a helping hand to help reflect his identity as a transgender man, fashion wasn't equipped with the clothes that could help him.
That's how Leo Roux, Roux's namesake clothing company specializing in casual clothing like jeans for transgender men and women, was born. 
"I knew things that trans men and women did to present themselves in the gender they identify with, basically using visual elements in the clothing to highlight this and camouflage that," Roux, who lives in Seattle, said in an interview. "I thought that if somebody could design the clothing from the ground up, then it'd be so much easier for people to find clothing that's flattering for the gender they are." 
Roux's story isn't unusual. Leon Wu, the designer behind Sharpe Suiting in West Hollywood, is a transgender man and launched his brand because of his quest to find quality yet affordable garments that fit him and other members of his community. 
"One day, a friend of mine and I went shopping to one of those Hollywood suit outlets and my friend, who typically is a very confident butch-identified person, asked for help and the sales rep was like, 'She doesn't fit any of our clothes,'" Wu said. "And I just thought that was so wrong and immense. Just seeing the look on my friend's face and how she looked, I knew I wanted to help and offer people like her options." 
Because of their identities, Wu and Roux's careers in fashion kind of found them. But despite their talent, very few trans or gender-nonconforming designers make it to the runways of New York Fashion Week. 
While trans and GNC models seem to be getting more work than ever before — starring in ads for Dove and H&M and Mac campaigns, and walking in New York Fashion Week in increased numbers from season to season — trans and GNC designers remain few and far between.
So, why has fashion seemingly accepted trans and GNC models quicker than trans and GNC designers? Mic spoke to four different trans and GNC designers to find out. 
Different strokes: For starters, trans and GNC models and trans and GNC designers are simply different people, selling different things. 
As designer Auston Björkman of the label Sir New York — one of the few brands with a trans designer that's made it to NYFW — argued, models are selling themselves; designers are selling items for mass consumption, trying to make a living. 
"I have to be as relatable as much as possible, more than the models," Björkman said. "It has to feel like it's marketable. When you're a model it is about your exterior and it is about you. I can't speak for other designers, but I don't think my designs should really be about me." 
That's not to say that there's any animosity between trans and GNC designers and models. For many designers, like HAH Holton, who lives in Oakland, California and is gender nonconforming, it feels more like a natural progression. Of course more attention would be on the models first. 
"I think we're in a really intense climate right now and there is only room for so much," Holton said. "The trans models — it's a gateway. It's just the beginning of something that has been boiling up for a while. I know a ton of people who are gender-fluid and making outfits for their own parties, but are they a big name thing? No." 
Not selling gender identity: That being said, what Björkman says is one of the causes of his rare mainstream success as a trans designer with Sir New York is that he didn't sell himself as a trans designer, in fear of being tokenized and objectified by the industry and press, much like some trans models feel they have been. Sir New York specializes in gender-nonspecific menswear and has fans like A$AP Ferg and Wiz Khalifa.
"I didn't make the brand about me," Björkman said. "If the brand was about a trans designer, that would be hot for a minute and I wanted the work to stand for itself. It was about the clothes and design." 
He was also hesitant because he didn't want the brand to be solely associated with trans people, which could make people assume the brand was for just trans or GNC people, when it's for everyone. 
"I think in the beginning, if I had made it about being trans, immediately people would like it but hold back a little bit," Björkman said. "They'd be like, 'Wait, is this for trans people? Is this for queer people?' People don't want to represent that or think like, 'Oh maybe people will think I'm trans or queer if I wear this?'"
But for other designers like Roux and Wu, their identities were essential in not only thinking up their brands, but making sure that the brands offered what their customers wanted. While Björkman strove for mainstream success, Roux and Wu zeroed in on an untouched market involving trans and GNC individuals and grew that way. 
It's just two different ways of establishing a business: Either you capitalize on your identity or you don't. 
Money, money money: Up-and-coming trans and GNC designers also ace the daunting fact that fashion is an expensive industry to break into. 
For anyone, it's difficult. For a population that faces economic and social barriers it can feel nearly impossible. 
"It's an incredibly difficult industry to break into. It's incredibly expensive," Björkman said. "Mostly young, independent designers don't really make it. You might have a good season or two, but in the long haul it's incredibly expensive. And without support, it's only going to get to a certain level." 
As Holton put it: "If you can't get a job because you're socially unacceptable, then of course it's gonna knock you down. I'm creating my own job. It's not easy." 
So how can things change? Given how expensive and time-consuming starting a fashion brand can be, having support is critical for the success of trans and GNC designers. 
"We need more support," Björkman said. "We need support from investors and places like Council of Fashion Designers of America (CFDA) or small business and it can be really daunting being an indie GNC trans person [trying] to find those allies who are willing to take the risk to help someone like me. If they're a little confused by who I am, then they're less likely to really invest." 
Another factor in the bridge to mainstream success: being seen. 
"I think it's exposure," Holton said. "I also think it's about us gender-fluid people to put ourselves out there more. A lot of us don't put out content but it's when we're together. Why are we not sharing? I'm really imploring everyone to share what they're doing and not think it's not good enough."
"I think it all goes towards raising awareness," Roux said. "I think people, a lot of people, are not aware of the transgender experience and what that actually means. And a lot of people aren't aware that trans people are also just people and at the end of the day we just want to lead normal lives. The only way that can happen is that we become normalized. I think people fear what they don't know. The more people are aware are trans issues and trans people just being among them and leading normal lives or trying to the better."