'Veep' Season 6 Premiere Date: Three things to know about HBO's hit political comedy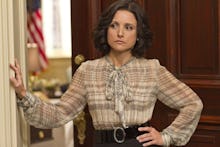 Veep, HBO's hit political comedy, will premiere its sixth season April 15 — according to a Twitter post by actor Timothy Simons, who plays Jonah Ryan on the show. 
Veep follows the life of unapologetically blunt and offensive politician Selina Meyer and the challenges she faces as vice president (and then president) of the U.S. government. Selina is portrayed by Julia Louis-Dreyfus, who has won several Emmy Awards for her performance. 
The mystery guest 
Details regarding the plot of Veep's sixth season have not been revealed, but showrunner David Mandel has shared behind-the-scene photos on social media. A mystery guest has been teased, but the name of the actor playing her has not been made public. 
Less satire than real life
With President Donald Trump in the White House, political satire has taken on a new poignancy. During a recent Facebook live Q&A, Dreyfus and Simons were asked, "How do you even begin to do political satire now that actual fascists are in the White House?" 
Dreyfus replied, "In this case, Selina Meyer is out of the White House this season, so that makes it slightly easier." 
Simons added, "Day to day, I haven't found a lot of stuff funny."
Dreyfus referenced current U.S. politics in her Screen Actors Guild Awards acceptance speech, discussing the controversial travel ban and revealing her father is an immigrant. 
Selina adjusts to private life 
The season five finale saw Selina losing the presidential election, a plot twist that left many wondering where the show would go from there. International Business Times reports the upcoming season will depict Selina adjusting to life as a citizen.
Mic has ongoing TV coverage. Visit our main TV hub here.