Pregnant Beyoncé stuns at the 2017 Grammys like the queen she is in a regal gold gown and veil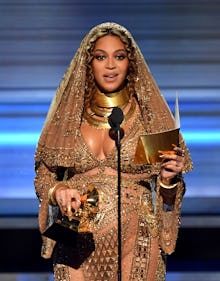 The first time we saw Beyoncé at the 2017 Grammy Awards, she was drenched in gold and glitter and performing two hits songs while immensely pregnant, wearing a gold gown designed by Peter Dundas and a massive sunburst headdress. 
She looked like a goddess — as she should. 
After her performance, accepting her 22nd Grammy award, Beyonce slipped into something a bit more comfortable — and by that we mean she replaced her crown with a gold veil, making her look like an honest-to-god religious figure. 
Meanwhile, Beyoncé's daughter, Blue Ivy, wore what appeared to be a sartorial ode to Prince, rocking a pink Gucci suit with white ruffles underneath. 
Beyoncé's sister, Solange, went with gold Gucci for the big night, too. 
If you look back at Beyoncé's previous Grammys appearances, this look was a massive departure. For the past four years, she's showed up in either black or white (or both). 
2016: 
2015: 
2014: 
2013: 
So gold was a welcome surprise. 
Also, of course, Beyoncé is pregnant. Compared to her past pregnant red carpet appearance, at the MTV Video Music Awards in 2011... 
... her look on Sunday night was much more focused on her bump, literally enshrining it in gold.
 Did Beyoncé just take pregnancy fashion to a new level? We think yes.