After Trump promise, US Army Corps of Engineers to grant Dakota Access easement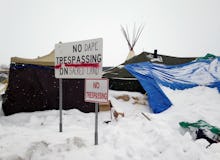 Less than three weeks after the inauguration of President Donald Trump, the U.S. Army Corps of Engineers is expected to grant an easement allowing the massively contested Dakota Access pipeline project to continue, Reuters reported Tuesday.
A revival of the project was widely expected in the wake of Trump's election, despite the now-temporary December victory of activists protesting the pipeline's route through land promised via treaty to the Standing Rock Sioux in North Dakota. Army Corps officials then agreed to halt the project, citing tribal concerns over potential water pollution and destruction of sacred land.
However, Trump's campaign included sweeping promises to do everything possible to expand the United States' fossil fuel extraction industry, and was outspoken about his intention to continue the project. One of his early acts in office was to order actions reviving the Dakota Access project along with another controversial pipeline, the Keystone XL. Trump himself has tried to muddy public understanding of the near-universal scientific consensus on climate change, and his administration is stacked with a number of climate change doubters and fellow fossil fuel advocates.