Rep. Maxine Waters already has zero time for that "disaster" Betsy DeVos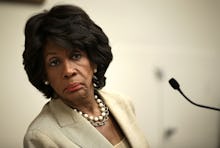 The ink isn't even dry on Betsy DeVos' confirmation as the next United States secretary of education, but Rep. Maxine Waters (D-Calif.) is already over it. In an interview with Democracy Now, which aired Tuesday morning before the Senate voted, the congresswoman wasted no time reading the Michigan billionaire for filth.
"Betsy DeVos has no experience, no background," Waters told reporter Juan González. "You know, she, of course, never attended public school herself. Her children never attended public school. She's never served on a school board, never taught. She's never done anything, except make big donations to Trump and others."
Waters went on to call DeVos a "billionaire wannabe teacher" and, a bit more pointedly, a "disaster."
"So this billionaire wannabe teacher is now in the position where there's a big fight going on in the Senate," Waters said. "[She's] a disaster ... [If Republicans] care about the students, if they really care about education, they will ... step up to the plate, and they will join with the other two Republicans and the Democrats and deny her this confirmation."
The other Republicans, of course, did not step up to the plate. DeVos was confirmed by a 51-50 margin Tuesday afternoon, with Vice President Mike Pence casting the tie-breaking vote. And with that, the Senate confirmed arguably the least qualified education secretary in U.S. history — a woman who didn't know the difference between "growth" and "proficiency" in measuring student progress, and who argued that guns in schools were a good idea because they'd help defend children from bears.
But back to Waters: In recent months, the 78-year-old congresswoman has emerged as one of the most cutting and vocal critics of President Donald Trump's agenda. During an interview with Tamron Hall on MSNBC in January, Waters explained in uncompromising terms why she was boycotting the inauguration.
"Let me just tell you: After I discovered who Trump is and how he conducted himself, I was never going to go to the inauguration," she said. "I don't like the way he has misled people. The way he has lied. I don't like the way he has disparaged folks. I don't like the way he mimicked and mocked a disabled man. I don't like the way he talked about women, and grabbing their private parts. ... I don't honor him, I don't respect him and I don't want to be involved with him."
If a Trump White House means four years of Waters dragging the president and his cronies, maybe it won't be so bad after all.