Mother of murdered backpacker Mia Ayliffe-Chung blasts Donald Trump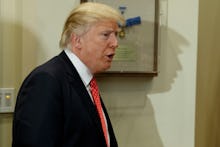 President Donald Trump just got publicly scolded by a mom, and boy did he deserve it. In a stinging open letter, Rosie Ayliffe — mother of Mia Ayliffe-Chung, the British backpacker who was murdered while traveling in Australia in August — took Trump to task for exploiting her daughter's death to promote his political agenda.
Ayliffe penned her letter after seeing her daughter's murder invoked in the list of 78 "under-reported" terrorist attacks the White House released Monday. The list conspicuously ignored violent crimes committed by white people, focusing instead on terror attacks, many of which did in fact receive weeks worth of media coverage, and all of which seem to have been selected with an eye toward painting Islam as a violent and dangerous religion. 
That might explain why the case of Ayliffe-Chung landed on the list: The 21-year-old was stabbed to death by her hostel roommate, a 29-year-old French-Algerian man named Smail Ayad, in August 2016. Ayad also attacked another backpacker, Tom Jackson, who came to Ayliffe-Chung's defense. Jackson later died from his wounds, and Ayad was charged with two counts of murder.
The backpacker's mother wrote that authorities in both Queensland, where the 21-year-old was stabbed to death in a hostel, and France quickly rejected the theory that killing was "an Islamic terror attack." According to the BBC, they moved to possible "obsession" and drug use as more likely motives. 
Ultimately, the crime seemed more a matter of Ayad's mental state — in October, a Queensland magistrate sent the case to mental health court after Ayad received a preliminary diagnosis of schizophrenia. While he did reportedly shout "Allahu Akbar" during the attack, as Ayliffe put it in her statement, "any fool can shout Allahu Akbar as they commit a crime." 
"This vilification of whole nation states and their people based on religion is a terrifying reminder of the horror that can ensue when we allow ourselves to be led by ignorant people into darkness and hatred," Ayliffe wrote.