Save money on TV — and bring your cable company to its knees — with these 3 cord-cutting power moves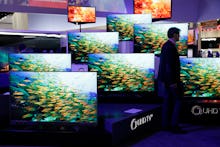 You may love to Netflix and chill, but a single season of Luke Cage will only get a hardcore TV addict so far. 
For those who are feel too guilty to use an illegal streaming site — and who want to be able to watch a ton of television — paying for cable continues to be the simplest option.
Alas, it is not cheap.
The average cable bill alone costs around $103 on average per month, according to the Leichtman Research Group's latest numbers. 
Ouch. 
So, if you want to keep watching TV like a grown-ass adult (who has left the world of torrenting behind), you will need to find other ways to keep that cable bill from taking too big a bite out of your bottom line. 
Here are three expert-approved tricks to knocking down your cable bill — partially, and maybe even completely.
First, negotiate with your cable provider for a discount 
A lot of people underestimate how much leverage they have with their cable company. 
Cable companies spend a lot of money installing equipment, as Timothy Lee writes for Vox. But once it's installed, providing service is cheap. So they have a big incentive to give discounts if it means keeping a customer. 
Lee recommends being direct and clear by actually saying the words, "I'd like to cancel my account," to make sure you get transferred to someone who's authorized to give out freebies.
You'll also want to be firm about the fact that it's a discount you want, not some other perk: Don't sound too desperate, as if you're willing to take anything.
Also, get ready to be put on hold and settle in for the long hall, unless you want to outsource the job of calling: Billfixers, a company you can actually hire to complain about your cable bill for you, told Money it can take three to five phone calls to get the cable companies to cave — or up to three hours.
Another option?
Personal finance expert Farnoosh Torabi recommends using the chat feature offered by many customer service hotlines, to get a quicker answer. 
Next, downsize your equipment — without losing anything
Still itching for more savings?
Try making strategic cuts to your costs and zoom in on hardware, Chris Heinonen, who wrote Wirecutter's guide to cord-cutting, recommends.
"Lots of people get a box for each TV in their house but only need one," Heinonen.
Indeed, renting cable boxes out is big business for the industry, to the tune of $20 billion a year, according to CNET. Virtually everyone who pays for TV has to rent a box, because FCC doesn't hold cable boxes to the same standards, meaning that if you want Comcast cable, you need a Comcast box. 
In other words, it's kind of a racket. 
The cost of leasing a gratuitous cable box from your cable provider can really add up, as much as $230 a year, according to Consumer Reports.
But as Heinonen noted, you really only need one: Once you have an account, you can link up the rest of your household TVs to other devices — like a Roku box or even your laptop — and watch all the same stuff (more on that below).
If you don't have a superfluous cable box, there's probably still money to be saved by hacking your hardware, software engineer Michael Collis said. 
"Buy your own cable modem," Collis said. "It costs a bit of money ... but that's a $6 ... or $8 fee that they hit you with each month."
"In the long run, the costs are a whole lot lower," he added. "And every cable provider has a list of compatible modems."
Cable modems can be purchased a lot more easily than a set-top box that brings you your cable package, Collis said, and you can get a decent refurbished one for around $80. 
If you're already spending $8 a month renting your modem, that means the one-time investment will pay off in less than a year.
Cut the cord entirely 
Maybe you are just fed up with cable: It's not you, it's them. 
"The biggest misconception about cord cutting right now is that it's still kind of a thing for the tech savvy," Stephen Lovely, who wrote a book about cord-cutting, said. "It's not nearly as hard to cut the cord as people think."
A good place to start, Lovely said, is probably to invest in a pair of rabbit ears, where the technology had gotten a lot more developed over the years, in no small part due to a cord-cutting inspired renaissance. That way you can watch free network TV, including popular events like the Super Bowl or Oscars.
Which set to get "depends on how far you live from the broadcast towers," Lovely said.
A lower end device for around $5, he said, would probably work fine in the city. If you live in the suburbs, you may want to invest in a higher end model — in the $20 range — to ensure you get a signal. 
As for the rest of your (non-network TV) content needs?
Both Lovely and Heinonen recommended the Roku Stick streaming device, touting its ease of use — and the fact that its search feature prioritizes cost, as opposed to any particular company's content. 
Replacing a cable box with a device like a Roku only requires a one-time purchase of about $30: From there, you can decide which services you want to use — like Amazon Prime, Hulu, Netflix and others — including some free options, like the YouTube app.
If politics or comedy on cable is your thing, YouTube will keep you covered, with tons of streaming clips from John Oliver, Samantha Bee, and the Daily Show — and these days you can also actually rely on YouTube to stream important speeches and press conferences.
You might also consider buying an HDMI cord that can connect your laptop to your TV, which'll open up a whole new world of options — especially if you're the type of viewer who doesn't mind watching shows a little after they air.
With a cord and laptop, you can spend nothing and still watch cable shows, including the CW's Riverdale, TV Land's Younger, and FX's buzzy new X-Men franchise, Legion — though only certain episodes might be available at a time.
To sum up?
By taking a few steps, you can maintain your monthly TV diet — while spending way less.
Sign up for The Payoff — your weekly crash course on how to live your best financial life. Additionally, for all your burning money questions, check out Mic's credit, savings, career, investing and health care hubs for more information — that pays off.