This girl's adorable 'Hidden Figures' review reminds us all why representation matters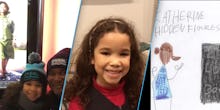 If box office wasn't indication enough, people really love Hidden Figures. And here's yet another detail to add to the mounting evidence.
On Tuesday, Christopher Persley tweeted out a 30-second video of his daughter Camilla reading a review she wrote of the film Hidden Figures, the story of three black female scientists at NASA who helped launch the United States' space program. 
"I saw Hidden Figures. It was amazing," Camilla reads. "Katherine, Dorothy and Mary are black women who worked at NASA. They were brave and brilliant. Katherine was great at math. Mary wanted to be an engineer. Dorothy led the women. They were all first at something. So go see Hidden Figures!"
According to Persley, he and his daughter went to see the movie a few weeks ago. Camilla first heard of the movie while watching the trailers during a trip to see an animated film.
"The Hidden Figures trailer came on, I looked over to see what her reaction was and she leaned forward a little bit," Persley said in a phone interview. "She was clearly interested in it and when it was over, she said, 'Daddy, I want to see that! They look like me and they're really smart.'"
Persley's daughter began to point out the movie poster everywhere she saw it. Persley and his wife spoke with Camilla before and after the movie about the way the women were treated and everything they had to overcome. After the movie, Camilla wanted to write a review — which she has done in the past for other movies. The movie continues to stick with Camilla weeks later.
"Every couple days, she references something from it or from one of the characters and finds strength in their story," Persley said. "It's remarkable, the impact it's had on young kids, especially girls of color. I feel lucky to have my daughter as part of that group."
Within a few hours of Persley tweeting the video, stars Taraji P. Henson and Janelle Monáe had retweeted it.
2016 has proven to be a great year for representation on screen. Earlier this year, a Tumblr post went viral that detailed what happened when a daughter brought her Mexican father to watch Rogue One: A Star Wars Story, which featured Diego Luna speaking with a thick Mexican accent.
Later in February, Hidden Figures will contend for best picture at the Academy Awards. And, while it may not be an odds-on favorite to win, the film has many of the markers of a best picture winner.