Nick Cannon talks getting back into music and looks back at his biggest pop culture-creating moments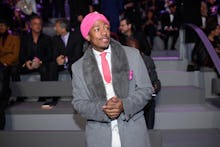 You might know Nick Cannon from America's Got Talent, or Wild 'N Out or even his first TV gig on All That. You might be a fan of the work he's done behind the scenes as the current chairman of TeenNick. You might not have known that he's part of the success of a plethora of artists and personalties — including Amber Rose, Kehlani and newcomers Yvng Swag and 99 Percent — under his company NCREDIBLE. 
Nick Cannon has proven that he has one of the most diverse portfolios in entertainment, having delved in music, television and film both in front of and behind the scenes. 
"Everything that I do, nobody ever sees it coming," he said Tuesday afternoon during a visit to Mic's office. Yet he's always taken every shot. Because of this, he remains a peculiar-yet-consistent force in popular culture.
In 2017, it's new-year-same-Nick as he juggles many top seats and jobs while exploring his creative endeavors. In the coming months, he's putting more time into releasing new music for his fans.
In the past, Cannon has explored several sounds. In November, he released his latest musical project: a mixtape titled The Gospel of Ike Turn Up, My Side of the Story, inspired by '90s R&B. His last LP, 2014's White People Party Music, was an EDM parody album. 
This time around, he's going for international vibes with his new single, "Hold On." On the song, he croons about living life in the moment over an energetic, pulsating rhythm. 
"It has an R&B vibe but then it has like the hip-hop flow to it," Cannon explains. "But then the beat feels Caribbean. But then it has like a Bollywood, Hindi type of vibe. So it's a world song."
Cannon says he's in the studio every night and plans to release two new projects this year. One is a mixtape called Model Music, which he describes as having more of a "moody vibe" than "Hold On." It's a mixtape where he'll open up about his relationships, as well as the way he "loves" and "worships" women. 
The next project he's planning is an EP called College Spring Break, Summer Fall Back due out in spring 2017. "I have a lot of upbeat and fun influences and wanted to make fun music, like whether it's springtime or summertime and kind of have that vibe of a college student, which I am," Cannon explained. Currently, Cannon is enrolled as a student at Howard University.
Cannon noted that he's been working with hit beatmaker Zaytoven, who worked behind the boards for Migos' "Versace" and Future's "Too Much Sauce," as well as many other hits. Zaytoven also joined Cannon's NCREDIBLE entertainment company as the president of NCREDIBLE Music "on the creative side," Cannon revealed. 
When it comes to vetting new artists, he's not impressed by talent alone.
"Talent doesn't actually move me. I'm more moved by drive, ambition, people's spirits. Like when they walk in the room, how do they captivate? What kind of energy do they give off? What frequency are they on?" he said.
He also saw this magnetism in Kehlani. The emerging R&B and pop princess tasted Grammy-level fame when her second mixtape, You Should Be Here, was nominated for best urban contemporary album in 2015. Her debut studio album — SweetSexySavage, released in January on Atlantic Records — is No. 3 on the Billboard 200 chart this week. Cannon gave the Forbes "30 under 30" singer her big break after she auditioned on America's Got Talent;  he also came to her side after her attempted suicide in spring 2016.
"That's family," he said. "Like I don't even call it business because it was never about the business for me. She was in a situation that was pretty detrimental early on, especially for like a 16-year-old," he added. Cannon said once she expressed that she wanted to take music seriously, he advised her to finish high school first and that he would support her along her musical journey.
"Like I said, she was one of those people that possessed that energy, that spirit. She's a star," he added.
If anyone knows what it takes to have longevity in the entertainment industry, where stars burn out and new ones are born every year, it's Cannon. 
Here's Cannon reflecting on some definitive moments throughout his nearly 20 years in the game.
On his breakout role on Nickelodeon's All That
"I learned so much from that process. I was a kid. I was a teenager. But I was a teenager that had came from nothing and to be able to go from mom not being able to pay her bills to, you know, Hollywood. It was a huge culture shock for me (…)
"That time, I've been able to pass it down to even my own children and other young people that we see in the game. Like always make sure you maintain who you are. Always maintain your core. Always be respectful and have manners because all of this glitz and glamour can be taken away in one moment."
On starring in Drumline
"Man, shoutout to all the HBCUs. All the bands. It was a culture a lot of people didn't know about. And we got an opportunity to shed a light on something really really cool. Really powerful and meaningful to our community and to our culture and it took off.
"Like Drumline didn't have any billboards and all that type of stuff, and then it goes on to make $100 million [the film grossed $53 million by the end of 2002, according to Daily News], and people never expected it. They thought it was just this little small movie about marching bands and now it's a classic film."
On creating MTV's Wild 'N Out
"Same thing. People didn't get it. Like 'yo I want to do a hip-hop comedy show and it's all focusing on improv, freestyling' and people and MTV were like 'What?' I took my own money, I got a comedy club, I called my friends Kevin Hart, Kat Williams, all of those people, and I just said 'yo let's do what we do backstage and you know, I'll bring the cameras in, two teams, set it up' — and it worked, you know.
"I pulled from all the great influences. Obviously inspired by In Living Color, Def Comedy Jam — but even some things that people may have never heard of that the comedy community knows, like Uptown Comedy Club that started off here in New York, where they kind of had their battling and stuff [that] I would watch early on. And then everything from Whose Line is It Anyway? to the The Flip Wilson Show."
On why he loves America's Got Talent
"Once I got in, I fell in love with it," Cannon said. "I always tell everybody it's the best summer job in the world. Every summer we're looking for a superstar to give a million dollars. To watch people accomplish their dreams and get opportunities and it's everyday Americans, it's outstanding."
You can watch the full Facebook live interview below featuring Nick Cannon discussing new music, rising artists he's ushering in and musings on his multi-faceted career below. Listen to his latest single "Hold On" via Spotify here.