Coretta Scott King: 3 things to know about the civil rights activist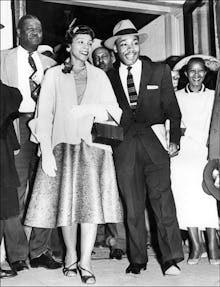 On Tuesday, the Senate rebuked Elizabeth Warren for attempting to read a letter written by Coretta Scott King opposing Jeff Sessions' nomination as a federal judge in 1986. In the letter, which until now was not made public, King wrote that Sessions joining the federal bench would "irreparably damage the work of my husband," Dr. Martin Luther King, Jr. 
After her husband's assassination, King worked tirelessly to fight for civil rights until her own death in 2006.
She marched for civil rights four days after her husband's death
On April 8, 1968, just four days after her husband was assassinated, King led a silent march of upwards of 10,000 people through the streets of Memphis accompanied by three of her children.
The march was intended to support a sanitation workers strike, but Dr. King's death left a somber tone over the event.
King spoke of her husband at the march, saying:
Those of us who believe in what Martin Luther King stood for, I would challenge you to see that his spirit never dies, and we will go forward from this experience — which to me represents the crucifixion — to resurrection and redemption of the spirit.
According to the National Archives, the march was initially planned for April 5, 1968, following an ongoing conflict between sanitation workers and Mayor Henry Loeb, who was "unsympathetic to most of the workers' demands" for job safety, union recognition, and better wages and benefits. The conflict arose following the death of two black sanitation workers in a workplace accident on Feb. 1, 1968; on the same day, 22 black sewer workers were sent home without pay due to inclement weather — while their white supervisors were retained with pay.
U.S. District Court Judge Bailey Brown granted the city of Memphis a temporary restraining order against Dr. King, but leaders of the Southern Christian Leadership Conference negotiated an agreement for the march to take place April 8. The details of the agreement were to be worked out April 5, but Dr. King was assassinated at his hotel the evening of April 4.
Her activism extended to LGBT women's rights
In 2004, King went on record stating that gay marriage was a civil rights issue, USA Today reported. In opposition to a proposed constitutional amendment that would ban same-sex marriages, King said:
Gay and lesbian people have families, and their families should have legal protection, whether by marriage or civil union. A constitutional amendment banning same-sex marriages is a form of gay bashing and it would do nothing at all to protect traditional marriages.
King's public ties to the gay rights movement actually began a decade earlier, when she spoke in support of the Employment Non-Discrimination Act (ENDA) at a 1994 press conference introducing the bill: 
I believe that freedom and justice cannot be parceled out in pieces to suit political convenience. As my husband, Martin Luther King, Jr. said, 'Injustice anywhere is a threat to justice everywhere.'
At the 25th anniversary celebration of the Lambda Legal Defense and Education Fund in 1998, King addressed the argument that she should "stick to the issue of racial justice" and not discuss LGBT rights:
I still hear people say that I should not be talking about the rights of lesbian and gay people and I should stick to the issue of racial justice. But I hasten to remind them that Martin Luther King Jr. said, 'Injustice anywhere is a threat to justice everywhere.' I appeal to everyone who believes in Martin Luther King Jr.'s dream to make room at the table of brother[hood] and sisterhood for lesbian and gay people.
She was devoutly committed to civil rights activism
In 1968, King worked tirelessly to found the Martin Luther King, Jr. Center for Nonviolent Social Change. As founding president, chair and CEO of the King Center, she worked to provide "local, national and international programs that have trained tens of thousands of people in Dr. King's philosophy and methods."
According to her King Center biography, King led goodwill missions around the world, spoke at "many of history's most massive peace and justice rallies" and served as a Women's Strike for Peace delegate at the 1962 Disarmament Conference in Geneva. She was also the first woman to deliver the class day address at Harvard and to preach at a St. Paul's Cathedral service in London. 
King authored three books and received honorary doctorate degrees from more than 60 colleges and universities. She also helped found organizations including the Black Leadership Forum, the National Black Coalition for Voter Participation and the Black Leadership Roundtable.
King is buried beside her husband in a memorial crypt in the reflecting pool of the King Center's Freedom Hall Complex. On their crypt is an inscription of Corinthians 13:13, which the King Center notes best memorializes the source of King's activism and service: "And now abide faith, hope, love, these three; but the greatest of these is love."