How Mitch McConnell's silencing of Elizabeth Warren totally and completely backfired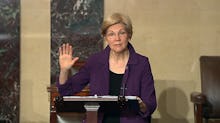 Sen. Elizabeth Warren's Senate floor speech Tuesday night against Sen. Jeff Sessions' nomination as attorney general would have been a fleeting news story — picked up in quick hit blog posts and used in a few cable news soundbites, only to dissipate into the forgotten annals of history after Sessions' all-but-certain confirmation slated for Wednesday afternoon.
But Senate Majority Leader Mitch McConnell's decision to use an arcane rule to silence Warren has now cemented her speech as a major moment in Sessions' confirmation process. 
And, even worse for McConnell and the GOP, the censure gave Warren a bigger megaphone than she had before, allowing her to spread the exact words they did not want the public to hear to millions more people, as well as fire up an already seething Democratic base that wants its leaders to block Republicans and President Donald Trump at every turn.
The incident began late Tuesday night, when Warren began reading a letter that the late Civil Rights leader Coretta Scott King wrote to oppose Sessions during his failed nomination to a federal judgeship in the 1980s. 
"Mr. Sessions has used the awesome powers of his office in a shabby attempt to intimidate and frighten elderly black voters," King wrote in her letter, which Warren attempted to read. "For this reprehensible conduct, he should not be rewarded with a federal judgeship."
McConnell, angered that Warren read King's words on the Senate floor, invoked Rule 19, a Senate provision in the Senate code of conduct that prohibits Senators from "directly or indirectly, by any form of words impute to another Senator or to other Senators any conduct or motive unworthy or unbecoming a Senator."
The spat ended with 49 Republican Senators voting to prohibit Warren from speaking about Sessions from the floor until after the vote on Sessions' nomination is over.
The brouhaha invoked the "Streisand Effect," a pop-culture reference named after actress and singer Barbra Streisand, which states that attempts to suppress information often has the unintended consequence of spreading that information far and wide. It was named after Streisand after she filed a lawsuit to keep tabloid photographs of her Malibu home out of the press, drawing even more attention to the pictures in the process.
That's exactly what happened for Warren.
After McConnell and the GOP silenced her on the Senate floor, Warren took to Facebook Live to read King's letter.
As of press time, more than 4.7 million people had watched Warren's live event, in which she read the letter. 
That number doesn't count the countless other print and television news outlets that have since run stories featuring Warren reading Kings words.
Even worse for McConnell, he handed Warren a win with the Democratic base — which has been clamoring for its leaders to block Trump and the GOP's agenda. 
Senate Democrats are powerless to stop the Republican majority from confirming Sessions later this afternoon, but the incident gave Democrats a very public argument to show their voters that they did everything they could to try and stop Sessions.
And for that, Democrats are thanking Mitch McConnell this morning.