Facebook just added a generous workplace perk — these 6 other employers offer enviable benefits, too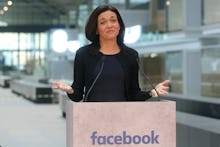 Facebook's Sheryl Sandberg announced a new company benefit Tuesday in an emotional post about the importance of having enough time to be with family.
Facebook employees now get 20 days of bereavement leave following the death of an immediate family member. They'll also get three days of paid family sick time, which can be used to stay home if a worker's child gets the flu. 
"We're extending bereavement leave to give our employees more time to grieve and recover and will now provide paid family leave so they can care for sick family members as well," Sandberg wrote. "Only 60% of private sector workers in the United States get paid time off after the death of a loved one and usually just a few days."
It's a pretty generous policy for a company already known for great perks: Facebook already has a renowned paid parental leave policy and gives new parents $4,000 in "baby cash," as well as offering free bikes and cashless vending machines stuffed with technology accessories. 
Of course Facebook isn't the only company to use perks to help hold onto employees in the uber-competitive tech industry.
Glassdoor's latest compilation of employers with the best benefits is filled with incentives that you didn't know existed — but will make you green with envy. 
1. Scripps Health offers pet insurance
While health insurance for your human employees is relatively standard, companies that subsidize the care of pets is more rare.
Scripps Health offers employees pet insurance that covers up to $7,500 in the event that Fido gets sick or injured, on top of $125 in routine coverage for both dogs and cats. 
2. In-N-Out employees get free burgers and fries during every shift
One of the most popular employee perks at the legendary Los Angeles eatery is naturally the free burgers and fries that workers get on each shift. 
A big caveat? Shakes don't count, according to some employees. 
3. Reebok has a CrossFit gym on-site
According to the company website, roughly half of the 1,000 Reebok headquarters employees retain memberships at the company's on-site, 13,000 square foot CrossFit facility. 
It seems pretty intense: Members are encouraged to "Check your ego and your business card at the door."
4. Genentech offers an on-site mobile spa
The biotech company Genentech has a corporate campus that's replete with helpful amenities, including on-site childcare, a mobile spa and even a barber. 
5. Starbucks pays for bachelor's degrees
Starbucks employees can complete a bachelor's degree through the online program at Arizona State University, which costs about $15,000 per year, according to CNNMoney. 
Over the next 10 years, Starbucks expects to spend about $250 million on the program. 
6. Timberland employees get paid to spend a week volunteering.
The famous boot-maker and apparel company gives its employees a full 40 hours a year off work to go volunteer.
Even better? They get paid to do it.
Sign up for The Payoff — your weekly crash course on how to live your best financial life. Additionally, for all your burning money questions, check out Mic's credit, savings, career, investing and health care hubs for more information — that pays off.