'Washington & Minnesota v. Trump': Latest news in the battle over Trump's travel ban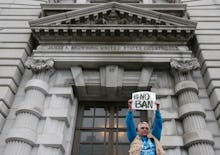 On Tuesday, a three-judge panel at the 9th United States Circuit Court of Appeals heard arguments over the phone regarding the temporary restraining order placed on president Donald Trump's travel and immigration executive order.
U.S. District Court Judge James Robart of Washington issued the restraining order on Friday after the controversial executive order's chaotic rollout in January. The order temporarily banned all refugees from entering the U.S. and suspended visas for immigrants from seven majority-Muslim countries, including Iran, Iraq and Syria.
The current issue before the appeals court is a question of whether the restraining order issued by a lower court should be upheld while litigation over the travel ban's legality continues, or if the courts should overturn Robart's order to reinstate the travel ban.
So far, the Justice Department appears to be stirring up skepticism rather than support from the judges, according to the New York Times. On Tuesday, Justice Department lawyer August Flentje attempted to argue that courts shouldn't second-guess Trump's travel ban.
Judge Michelle Friedland asked Flentje if the government has "pointed to any evidence connecting these countries [affected by the travel ban] with terrorism?" Flentje responded that the pace of litigation had made it difficult to be fully prepared, saying, "these proceedings have been moving quite fast, and we're doing the best we can," to which Judge Friedland said the government's appeal to reinstate the travel ban may be premature, the New York Times reported.
A media advisory issued before the phone call stated that a ruling is expected "probably this week." However the appeals court decides on the restraining order, the issue will likely go before the Supreme Court, which still has an empty seat. If the Supreme Court rules in a 4-4 tie, the restraining order would be upheld.