Lady Gaga claps back at body shamers on Instagram after the Super Bowl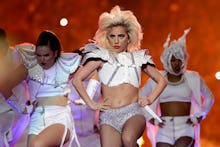 After her masterful Super Bowl performance, Lady Gaga faced criticism not because anyone thought her voice was subpar or her dancing was unimpressive, but because some people didn't like the look of her body. 
After her athletic, tour-de-force performance that lasted fourteen minutes, people on Twitter began body shaming the 30-year-old singer. 
Now three days out from the performance, Gaga wants everyone to know that not only does she not have time, but she's more than proud of her body right now. 
In an Instagram posted on Tuesday, Gaga wrote: "I heard my body is a topic of conversation so I wanted to say, I'm proud of my body and you should be proud of yours too. No matter who you are or what you do. I could give you a million reasons why you don't need to cater to anyone or anything to succeed."
"Be you, and be relentlessly you," she continued. "That's the stuff of champions. Thank you so much everyone for supporting me. I love you guys."
In response, her fans are in full support, commenting on her Instagram with things like: "Girl, your body is banging. Keep doing you!!!" and "You tell them Gaga!! Always the trolls behind a screen looking for imperfections in life." 
Gaga, who's struggled with anorexia and bulimia, has been the target of body shaming several times before, notably clapping back in 2014 when people were criticizing her weight in a recent Instagram picture. 
On Twitter, she wrote: "I got a belly sometimes, sometimes I don't." 
And it really doesn't get simpler than that, does it?