John Oliver and Stephen Colbert are as exhausted by Donald Trump as you are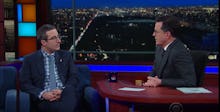 John Oliver is finally returning to HBO on Sunday with a new episode of Last Week Tonight. So in anticipation, the host stopped by The Late Show Tuesday night to chat with fellow Daily Show alumnus Stephen Colbert. Naturally, the two talked about Donald Trump and what it will be like covering the controversial new administration for the next four years. 
In short, it's going to be exhausting. 
"It feels like his Inauguration Day was 114 years ago," Oliver said in the clip below. "We have a long way to go; it's going to be hard. It's easy to be angry on adrenaline, but it is much, much harder when you are just tired, and this is going to be exhausting." 
One of the biggest issues thus far is Trump's controversial immigration ban, which targets seven Muslim-majority countries and is already causing uproar at airports across the country. Colbert asked Oliver if — considering he is a British national with a green card living in America — if there's any concern for himself being deported. 
"The crazy thing is, it's probably not going to happen, but there is a non-zero chance of it happening now," Oliver responded. "I am slightly concerned. I have an American wife and an American son now, but who knows what's enough? ... We held up translators, Afghan and Iraqi translators, at the border, who have bled for a country they've never visited, have sacrificed family members for this country. This president has done neither of those things. So it's a little hard to swallow him telling people whether they should be a benefit to America or not." 
In the very unlikely event that Oliver would have to return home, however, he and Colbert took a look at Oliver's U.K. hometown of Bedford in their "Community Calendar" segment. Oliver had an apt description of his small town. 
"A scrappy town," he described. "You back it into a corner, it'll chew your face off."
Apparently, the community events in the segment are actually happening in Bedford, including a "Circus of Horrors" and spooky stories. That's cool, but admittedly odd that Bedford is going with Halloween-themed events in the middle of February. 
"If you'd like any more information about any of these events, John Oliver will gladly do a 30-minute deep dive on each one of them," Colbert concluded. 
Watch the segment below: