Northeast Snowstorm 2017: Latest forecast for major February storm headed for NYC, Boston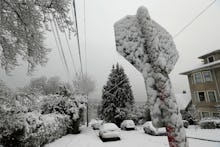 Winter Storm Niko will bring over five inches of snow to a considerable swath of the so-called I-95 Corridor on Wednesday and Thursday, the Weather Channel reported. Parts of Long Island, southeast Massachusetts and eastern Maine could see up to a foot of snow. 
If Winter Storm Niko brings its expected blizzard-like conditions, it will likely cause difficult commutes and travel delays throughout the region, especially in cities like Boston, New York City and Philadelphia.
The National Weather Service issued winter storm warnings for southern New England, eastern Pennsylvania, New Jersey and parts of northern Delaware and northern Maryland. The warning may affect Providence, Hartford and other cities along its path. Winter storm watch extends from coastal Maine down through southern New Hampshire, northern Maryland — including north of Baltimore and Washington, D.C. — and parts of eastern West Virginia. 
Here is a timeline of how Winter Storm Niko will affect your local weather, according to the Weather Channel: 
Wednesday night  
• Snowfall from the Ohio Valley and Appalachians into some parts of the Mid-Atlantic states. Washington D.C. and Baltimore metro areas will experience some rain and snow. 
• Washington D.C. and Baltimore metro areas will experience some rain and snow. 
• Some snow is likely to fall overnight north of I-95, including Philadelphia, the New York Tri-State area and southern parts of New England before dawn Thursday. 
Thursday 
• Some heavy snow might take place in parts of the Mid-Atlantic as far as north of New York City through Thursday morning before ending by early afternoon. 
• New England, especially its southern and eastern portions, will see some heavy snow for much of the day before it begins to slow down by nightfall. Far southeast New England might experience wind gusts over 50mph. 
• Philadelphia, Harrisburg, New York City and some parts of Baltimore and Washington, D.C., may see an impact on their morning commute. Flight delays are likely. 
• Boston, Hartford and New York City may experience an impact on their afternoon or evening commute. Flight delays may occur as far south as Philadelphia.