Who won the Bernie Sanders vs. Ted Cruz debate on health care?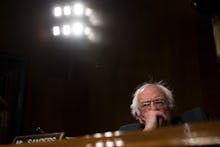 Sens. Bernie Sanders (I-Vt.) and Ted Cruz (R-Texas) discussed the future of the Affordable Care Act during a 90-minute-long town hall debate on CNN Tuesday night. Both senators proved that they have opposing views on the government's role in America's health care system. 
During the debate, Cruz urged Republicans to repeal the ACA as they promised in the past. "2010, 2014, 2016, I believe were a mandate from the voters. We're tired of the premiums going up. We're tired of deductibles going up," Cruz said. "Should Congress move swiftly to repeal Obamacare? Absolutely."
However, Sanders warned about the consequences of dismantling the health care law. "If you are one of 20 million Americans who finally has received health insurance, forget about it — you're gone," he said. "That means when you get sick, you ain't gonna be able to go to the doctor. And when you end up in the hospital, you'll be paying those bills for the rest of your life, or maybe you'll go bankrupt."
The debate had some heated exchanges. When Cruz said that access to health care is a right, Sanders rebuked that claim by saying that access to health care does not mean "a damn thing" if the person can't afford to pay:
So who won the debate? It depends on who you ask.
For Christine Rousselle of the conservative website Townhall, Cruz "owned" Sanders since both agree that the government is corrupt, proving Cruz's point that Washington should not wield power over health care.
However, The Hill's Brent Budowski — a self-proclaimed progressive — believed Sanders would defeat Cruz prior to the debate. "The GOP has a huge problem with the health care issue. There are good reasons that Republicans, no matter how much they attack Obamacare, have failed to propose even one real alternative throughout the last seven years," Budowski said. "When Bernie Sanders debates Ted Cruz, voters will know why."
Twitter users also weighed in on who emerged victorious, yet opinions are split. One user said that Cruz "just wiped the floor with Bernie Sanders," while a Sanders supporter believed the Vermont senator "destroyed Cruz".
For others, neither Cruz nor Sanders won. 
Others did not exactly know the purpose of this debate between two senators who lost their respective presidential primary races:
Although there is no scientific poll that defines a clear winner, some believe that the debate did not provide any new information regarding the future of the ACA. "We're closing in on the end of the debate, and it still feels like largely a rehash of what they might have argued during the presidential campaign. I can't think of any news made here," the New York Times' Margot Sanger-Katz said in a live blog. 
Others concurred with this point. "I agree. Both men largely repeated parts of their campaign arguments and the statements they have been making since Donald Trump's election," Yamiche Alcindor, a reporter for the New York Times, said.