Under Armour faces backlash after CEO gives high praise of Donald Trump in new interview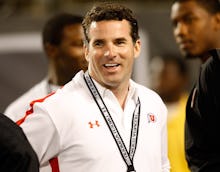 While plenty of clothing brands are desperately trying to distance themselves from President Donald Trump and his policies, Under Armour's CEO just came out and did the opposite.
In an interview with CNBC's Fast Money Halftime Report on Tuesday, Under Armour's CEO Kevin Plank offered unabashed support for Trump, noting that he respects him because he's so "pro-business." 
"I think he's highly passionate," Plank said. "To have such a pro-business president is something that is a real asset for the country. People can really grab that opportunity. He loves to build — I don't think there's any surprises here. When you look at the president, he wants to build things. He wants to build things, he wants to make bold decisions and be really decisive. I'm a big fan of people that operate in the world of publish and iterate versus think, think, think, think, think. So there's a lot that I respect there." 
The Under Armour brand is in fact one of the companies involved in Trump's Manufacturing Jobs Initiative, and has committed to increased American production over the past year. The label even just launched a special Made in America collection. So, the timing of this statement is interesting. 
Back in November, Plank was asked about the election outcome by Footwear News, and although he wasn't nearly as explicitly supportive, he did call for more unity in the country. 
"I hope it becomes a unifying moment for America," he said. 
This CNBC interview comes just days after a few other athletic clothing brands weighed in on the president, with Nike sending a letter to its employees condemning Trump's travel ban and Adidas issuing a statement of concern over the ban as well. 
"Sport has shown in the past and will show over and over again in the future that it can bring people together from all over the world — regardless of their nationality, gender, age, religion or sexual orientation," the Adidas statement read. 
As with other companies who have had their representatives voice pro-Trump sentiments, like L.L. Bean and New Balance, people on Twitter are ready to dump the brand. 
"In a week when multiple major apparel retailers like Nordstrom and Neiman Marcus are sprinting away from the Trump brand as quickly as they can, Plank aligns himself with the guy who is separating families and persecuting a religious minority?" Shannon Coulter, the woman behind the #GrabYourWallet movement, which is all about boycotting brands that support the Trump administration, said in an interview. 
She continued: "I guess he didn't get the memo that the people who voted against Grabby McRacist generate two thirds of this nation's economic activity. He's about to learn."
But there are also plenty of people who are more supportive of the brand now in light of Plank's comments, even sparking a #BuyUnderArmour hashtag on Twitter. 
In a statement to Mic, Under Armour said the following: 
"We engage in policy, not politics. We believe in advocating for fair trade, an inclusive immigration policy that welcomes the best and the brightest and those seeking opportunity in the great tradition of our country, and tax reform that drives hiring to help create new jobs globally, across America and in Baltimore." 
"We have teammates from different religions, races, nationalities, genders and sexual orientations; different ages, life experiences and opinions," the statement continued. "This is the core of our company. At Under Armour, our diversity is our strength, and we will continue to advocate for policies that Protect Our House, our business, our team, and our community."
The #GrabYourWallet campaign was already gaining momentum after Ivanka Trump's brand recently got dumped by several retailers, so we'll just have to see if consumer retaliation makes a difference here, too.
Feb. 8, 2016, 11:42 a.m.: This story has been updated with a comment from Under Armour.