Elizabeth Warren read Coretta Scott King's letter on Facebook Live after Republicans shut her down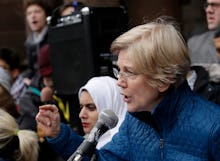 Republicans barred Sen. Elizabeth Warren (D-Mass.) from reading Coretta Scott King's anti-Jeff Sessions letter on the Senate floor Tuesday night. 
But she was far from finished: After being censored by Senate Majority Leader Mitch McConnell (R-Ky.), the Massachusetts senator left the Senate chambers and read the full letter from the hallway live on her Facebook page. 
Video below:
"Thank you for allowing me this opportunity to express my strong opposition to the nomination of Jefferson Sessions for a federal district judgeship for the Southern District of Alabama," King's letter read. "My longstanding commitment, which I shared with my husband, Martin [Luther King, Jr.], to protect and enhance the rights of Black Americans, rights which include equal access to the Democratic process, compels me to testify today."
King wrote the statement in a successful attempt to scuttle Sessions' nomination for a federal judgeship in 1986. She went on to paint the now-Alabama senator as an enemy of black civil rights, who "used the awesome power of his [then-U.S. Attorney's] office to chill the free exercise of the vote by black citizens." Sessions famously prosecuted — and failed to convict — three black civil rights workers for voter fraud in 1985.
Warren tried to read the letter again Tuesday night, as the Senate drew closer to a vote on whether to confirm Sessions as the new U.S. attorney general, a position President Donald Trump nominated him for in November. But she was abruptly cut off. Sen. McConnell invoked rule 19 to silence her, which prohibits senators from "directly or indirectly, by any form of words impute to another senator or to other senators any conduct or motive unworthy or unbecoming a senator."
It was a stunning moment in an already-stunning confirmation process for Sessions. Democrats in the Senate and progressives across the U.S. have come out in droves to oppose the Alabama senator's confirmation. These efforts seem likely to fail. Republicans hold the Senate majority, and a Sessions confirmation appears imminent if the votes fall along party lines, as they are expected to. But the GOP's attempts to block Warren from speaking the truth about Sessions shows what shaky moral ground the party stands on.