'This Is Us' Episode 15 Spoilers: What will happen in '"Jack Pearson's Son"?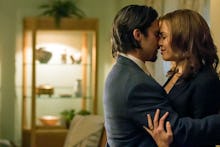 The drama never stops on This Is Us. Tuesday's installment of the NBC series dropped some major bombshells. Kate ends up at Duke's bunk after Toby gifts her with his grandmother's ring; Randall loses some big accounts at work while struggling to deal with William's illness; and Kevin seemingly convinces his ex-wife to give him another shot. Those storylines will continue to play out in episode 15, titled "Jack Pearson's Son."
According to a synopsis from TV Guide, Randall will continue to feel the pressure from his job and family. But it will no longer just be affecting him mentally. Viewers saw in the final moments of episode 14 that he couldn't control his hand from violently shaking when he went to pick up a glass of water. The promo video for the new episode reveals that he won't be able to stop the tremors.
Kate won't be doing much better. Episode 14 ended with her going to Duke's bunk. But is she there to confront him about his inappropriate behavior? Or will her doubts about her relationship with Toby cause her to give into temptation?
Meanwhile, a flashback shows that Rebecca and Jack will face their own problems. Although Jack goes out of his way to treat Rebecca to a sweet night at their old apartment, she tells him that her band is going on the road to tour — and that she wants to go with them. This Is Us fans didn't get to see Jack's reaction, but the promo reveals that Rebecca didn't lay out all the facts for him. It turns out that Jack hadn't realize that Rebecca's ex-boyfriend would be on the road with her, something that he's not exactly comfortable with.
Finally, episode 15 will find Kevin stressing about his off-Broadway debut. But he'll find support from an "unexpected source." Could it be his ex-wife, Sophie?
Episode 15 of This Is Us will air on NBC on Tuesday, Feb. 14 at 9 p.m. Eastern.