'Iron Fist' Netflix Sneak Peek: Who is Colleen Wing?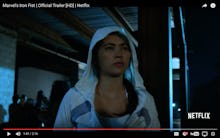 Iron Fist, the new Marvel superhero series, will premiere on Netflix March 17 and introduce a new character whose existence has been teased in other Marvel series. 
The latest series from the comic book giant follows Danny Rand, played by Finn Jones, a martial artist who, after surviving the plane crash that killed his parents, returns to New York City to take back his family's company from criminals who have infiltrated the organization. Rand is joined by fellow martial artist Colleen Wing, who is played by Jessica Henwick. She is shown in the trailer sparring with Rand and, after he declines her offer for help, she tells him, "You need me."  
Rosario Dawson's Claire Temple is also featured in the series. When she was last seen on Luke Cage, she was looking at a flier advertising Wing's self-defense classes. 
Check out the sneak peek of Colleen Wing that Netflix released Wednesday.
Henwick discussed playing Wing with Screen Rant, teasing that the character is "a badass by all accounts."
She runs a dojo in New York and she's just a hustler. She's trying to survive and live when Danny Rand, who is the Iron Fist, comes over and kind of ruins her life, messes everything up. And she's just so much fun to play, such a pleasure, so I really hope the fans connect with her. I mean, we dropped our trailer at New York Comic Con, and people went insane. So I hope we fulfill those expectations.
Wing has been seen throughout the Marvel universe, appearing in the Spider-Man and X-Men stories. 
Action-packed projects are nothing new to Henwick, who has also worked on Game of Thrones and Star Wars Episode VII: The Force Awakens. 
Mic has ongoing TV coverage. Please follow our main TV hub.