Before "Carpool Karaoke," 'Late Late Show' host James Corden was in two boy bands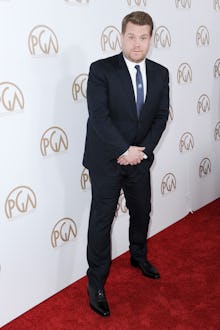 James Corden has achieved massive success thanks to The Late Late Show and its insanely popular and viral segment "Carpool Karaoke." But before all his fame, Corden lived a simple life as a struggling actor and musician looking for his big break.  
Back in high school, the host of this Sunday's 59th Annual Grammy Awards found himself in a boy band that wasn't really a boy band. That's right, Corden and his friends formed a group called Full Frontal. Except Full Frontal never rehearsed or performed — the guys just told everyone they were in a band. 
Corden recalled his time in Full Frontal during an appearance on The Graham Norton show in 2011, while promoting his autobiography May I Have Your Attention, Please?
"I say we were a boy band and it was me and four mates and we told people we were a band," he revealed. "We never really did anything. We didn't have any songs and didn't do any dancing."
"My second boy band, we were called Insatiable. Why? Because you just can't get enough," he joked. But this band was real. It was very real. "We sung and danced. We were like the Backstreet Boys, if they were worse. We had original songs and dance routines and we played about eight gigs. ... We took it seriously."
Norton then asked Corden if he remembered the lyrics to one of Insatiable's songs, "Girl Are You Ready?" Corden did and even spit some of the lyrics. "It was fun for a bit," he recalled about his time in the bands. 
You can watch James Corden live out his full music fantasy as he hosts the 59th Annual Grammy Awards on Sunday on CBS at 8 p.m. Eastern.