Trump complained that the Air Force One towels aren't soft enough because of course he did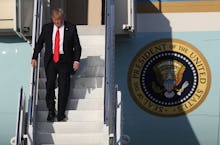 Now that he's leader of the free world, President Donald Trump is limiting his complaints to the important things in life: the constitutional separation of powers, the media — and, naturally, the hand towels aboard Air Force One.
An article on the Huffington Post detailing Trump's reported conduct in the White House revealed that the commander-in-chief has registered a complaint about the hand towels, which are apparently not soft enough for Trump's liking.
Other details about Trump revealed in the article include that he was unaware of the difference between a strong and weak dollar, is fascinated by the White House phone system and refuses to read briefing memos longer than one page (with no more than nine bullet points).
"I've been in this town for 26 years. I have never seen anything like this," Eliot Cohen, a senior State Department official under President George W. Bush and a member of his National Security Council, told the Huffington Post. "I genuinely do not think this is a mentally healthy president."
Twitter, of course, was quick to point out Trump's hand towel obsession:
Downgrading his air travel to Air Force One from his private plane seems to have been a rough adjustment for Trump, who boasted on the campaign trail he would forego Air Force One for his own plane.
That, however, was impossible, given Air Force One's specific security functions. The presidential plane is equipped with a special refueling system, an onboard hospital, an anti-missile system and a blast-resistant outer shell that can reportedly withstand a nuclear explosion, CBS News notes.
Trump's private Boeing 757, meanwhile, is equipped with 24 karat gold-plated seat belts, plush carpets and an entertainment system, which features 1,000 movie titles branded with Trump's name and a "T-Bone" button for Trump that overrides everyone else.
And, apparently, very soft hand towels.