How will Trump change NAFTA? Here's what we know about the president's plan.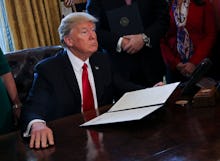 Of the many issues President Donald Trump focused on during his campaign, perhaps no other resonated with working class Americans more than his stance on trade. He repeatedly claimed that free trade deals like the Trans-Pacific Partnership and the North American Free Trade Agreement hurt American workers. He promised to pull out of the proposed TPP and, less than a month into his term in office, he did.
Many questions remain, though, about NAFTA. Trump has promised to renegotiate the deal and to pull out if the other signatories, Canada and Mexico, don't agree. Here are three changes Trump could look to make to the landmark deal, which went into effect in 1994.
A change to the "rules of origin"
Trump may want to force companies to use more parts manufactured in the NAFTA zone to build their products. For instance, if a car is manufactured in Mexico, it can still use parts from countries like China, the New York Times reports. For cars, NAFTA currently requires that 62.5% of the parts be sourced from NAFTA countries. Trump might want to increase that to something like 75%.
Easier shipping for the U.S.
The New York Times also notes that Trump could seek to make it easier for American companies to ship goods into Mexico and Canada by lowering the fees and reducing the amount of paperwork required. This could be achieved by raising the maximum value of what is able to be shipped, without the red tape that comes attached to bigger shipments.
Protecting the U.S. legally
Trump may also want to add language making it harder for Mexico and Canada to sue the American government due to disputes, which Bloomberg reports shouldn't be a terribly tough sell for the two countries.