How to get a job as a chocolate taster — plus 4 other awesome gigs you never knew existed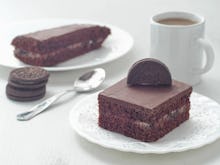 What's the sweetest job on earth? Quite possibly working as a chocolate and cocoa beverage taster for Mondalez International, parent company of the Oreo, Cadbury and Milka brands.
Mondalez currently has a job posting for a part-time position at its science center in Reading, United Kingdom. 
The top job requirement? "A passion for confectionary and taste buds for detection."
Other job requirements include:
— Honesty when it comes to giving an opinion— Eager to try new inventive products— A communicative personality to build great relationships with your panel— A firm grasp of the English Language
You got this.
The fine print
Sadly, the job is just 7.5 hours per week, from 12:15 p.m. to 2:45 p.m. Tuesdays through Thursdays — as if that's really enough time to spend eating Cadbury creme eggs, Oreo cookies and Milka chocolate bars each week. (Here's a full list of the product lines you might be tasting.)
The job isn't just about gorging yourself, either.
Responsibilities include being "able to taste chocolate and cocoa beverage products and give objective and honest feedback", the ability to use "a clearly defined vocabulary", and being able to "aid in the discrimination between products." Teamwork, integrity and rock-solid ethics are key as well.
4 other offbeat gigs you can get
For something less corporate (and less filling), there are lots of other outlandish options out there. 
In August, newly-elected mayor of London Sadiq Khan created a position entitled "night czar" to promote and support "the value of London's nighttime culture." The position is currently filled by DJ, night life maven and New Jersey-native Amy Lamé.  But keep your eye on that one in case it opens up again.
For something less festive, you can be a professional mourner at Rent a Mourner, a U.K.-based firm. Responsibilities include looking sad and "discreet."
Professional cuddlers, on the other hand, get paid to cuddle people. 
And for something, well, a little less weird, but equally unusual, you could join the International Ice Patrol to oversee the towing and removal of potentially hazardous icebergs — you can thank the Titanic for the role. 
Pretty cool, eh?
Sign up for The Payoff — your weekly crash course on how to live your best financial life. Additionally, for all your burning money questions, check out Mic's credit, savings, career, investing and health care hubs for more information — that pays off.