'Injustice 2' Next Character Reveal: New hero coming next week, Beast Boy possible?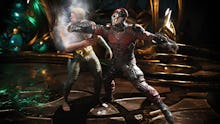 After the recent reveal of Black Canary, we're all on edge waiting for the next Injustice 2 character reveal. Unfortunately, we'll have to wait a little longer than we initially thought, as the next reveal has been slightly delayed.
Injustice 2 next character reveal delayed
According to GameSpot, the next character was slated to be revealed on Feb. 7. Feb. 7 has come and gone, and we still don't know who the next character will be. That's because, for one reason or another, the reveal has been delayed to Feb. 13. 
That means we'll find out who the next character is during the lead-up to Valentine's Day, but who could it be?
Injustice 2 next character reveal: Beast Boy?
There's no real evidence that the transforming superhero Beast Boy will be in Injustice 2, but the idea is definitely compelling. He'd be the DC Comics fighting game version of Shang Tsung from Mortal Kombat, a combatant who transforms into different beasts throughout the fight.
The biggest potential hurdle is the technical difficulty of loading in several different highly detailed 3D models during one fight. Shang Tsung's morphing ability was either nonexistent or nerfed in the 3D Mortal Kombat games, for example. If NetherRealm Studios could figure out how to make it work, it would certainly be unique.
More fighting game news and updates
While you wait for more Injustice 2 characters, read more fighting game news on Mic. Find out more about Super Smash Bros. for Switch, the Injustice 2 roster, the Tekken 7 console release date, what to expect from Marvel vs. Capcom: Infinite and the Evo 2017 lineup.