'Vogue' side-steps Melania Trump cover with diverse "Women Rule!" cover featuring Ashley Graham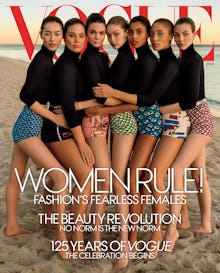 There's been a lot of hubbub about when — or even if — American Vogue will feature any member of the Trump on its cover since President Donald Trump was sworn in as America's president in January. 
Trump called for a meeting with Vogue's editor in chief, Anna Wintour, after all, so it seemed possible that Vogue would repeat history and feature the first family or even just the first lady on its March cover, like it did with Michelle Obama in 2009. 
But for this new administration, that's not (yet) the case. For Vogue's March 2017 cover, it decided to not include any member of the Trump family at all, but instead have it be a celebration of women. 
On the cover — which was revealed on Wednesday morning by photographers Inez van Lamsweerde and Vinoodh Matadin — under huge headlines reading "Women Rule!" and "Fashion's Fearless Females," there are seven models all in black turtlenecks and briefs. 
One of the models is Ashley Graham, marking her first cover for American Vogue. Also featured are Liu Wen, Imaan Hammam and Adwoa Aboah — all models of color. And then there's Vittoria Ceretti, along with Vogue's favorite, Gigi Hadid, and Kendall Jenner. 
So far, fans are super enthusiastic about it. 
Is this a dig at the Trump administration? Perhaps. After all, though Vogue didn't include Melania Trump on this cover, on Tuesday it ran an article about the scandal involving Trump trying to profit from her position as first lady. So it's not like she's not on their radar. 
There's no doubt that this cover would have a different effect had Hillary Clinton won in November. Were Clinton in the White House, it would feel like a continuation of female power. Now, the cover stands in stark contrast to the beliefs held by the most powerful people in the White House, who have already moved to ban federal funds from international organizations that provide abortion services around the world. 
And it bears noting that one day after the inauguration, millions of people gathered to march for women. 
So it may be that this is a dig. But in the meantime, this stands as one of Vogue's most diverse covers yet, with one plus-size model and three models of color, all together with fashion's biggest models, Hadid and Jenner. 
By putting all the women up against each other, they are one unified force of women, much like the marches that popped up the day after the inauguration. 
Mic has reached out to Vogue for comment.