'Suits' Season 6, Episode 13 Recap: Mike goes back to court — as a spectator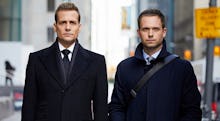 After last week's episode of Suits placed much of the emphasis on Harvey's reconciliation with his estranged mother, season six, episode 13 was more aligned with what we have come to expect from the hit legal drama. "Teeth, Nose, Teeth" weaved several storylines together in an episode that teases some tantalizing arcs to close out the season. 
(Editor's Note: Spoiler's ahead for season six, episode 13 of Suits.)
Sometimes it is surprising how many different story arcs Suits can cram, effectively, into a single episode. That is one of the reasons I was slightly bummed that last week's episode focused on just two major storylines, leaving not as much for the (stellar) supporting cast to do. "Teeth, Nose, Teeth," on the other hand, got all the players involved. 
Mike, Harvey, Rachel, Louis and Donna all have their own significant arcs in season six, episode 13. For Mike, he is still adjusting to his new job as a legal clinic supervisor, which allows him to help those in need, but he struggles with the fact that he cannot take part in the actual legal proceedings. Harvey and Louis were tasked with finding a solution to Rachel being denied an interview for admittance to the New York Bar. And Donna, who appears to always help everyone but herself, may have a chance to capitalize on her unique Donna-ness.
Clearly we have a lot to unpack, so let's get started... 
Can Mike get back in the courtroom?
Last week's episode sees Mike get right to work as supervisor of a legal clinic. The first case he helps out on is an eviction conflict, in which the clinic's client withheld rent due to unlivable conditions. In the end, Mike gives the client a check out of his own pocket after Oliver botched the case in the courtroom. 
In "Teeth, Nose, Teeth," the clinic's client fails to deliver her rent check in time as her child goes to the hospital after suffering an asthma attack. Mike tries to deliver the check on his own, but shows up to the landlord's attorney's office a few minutes late and is turned away. Obviously, Mike, who is out to really make a difference after his stint in prison, is not going to let this slide. 
He decides that the client should file a countersuit, because the landlord began construction on the building with tenants still living there. Mike initially wants to take the filing to Nathan, but Oliver convinces him that he can do it, and that his courtroom debacle was just a matter of nerves. Mike acquiesces, and the landlord's attorney eventually agrees to a $25,000 settlement. Sounds like a victory, right? Wrong. 
The client decides that $25,000 will barely be enough to cover her child's hospital costs, and that the potential $500,000 she could win at trial is worth taking the risk. Mike tries to negotiate a larger settlement with the landlord, but that fails, sending them to trial. The problem is that Nathan refuses to act as lead counsel on the case, and Marissa, the third year law student, has to be with her ill father. This forces Mike to hand the case over to Oliver, despite earlier expressing his concerns to him over his anxiety in the courtroom. 
Despite all their preparation, Oliver does end up botching the case, leading to the client's suit being dismissed. This leads Mike to make a drastic decision in the latter moments of the episode...
Who would blackmail Harvey? 
We know from previous episodes that Rachel has a legitimate reason to be concerned regarding her admission to the New York Bar. The issue is that her relationship with Mike could threaten her chance of passing the character and fitness portion of the bar. Well, in "Teeth, Nose, Teeth," Rachel is told she may not even be given the chance to argue her case in an interview. 
This ends up just being an elaborate plot to get Harvey Specter into the same room with one of the lawyers on the committee. As it turns out, the lawyer, for his own financial benefit, wants Harvey to file a suit against a competing company to drive their stock price down. In exchange, he would make sure that Rachel passes her character and fitness test. 
Obviously, Harvey is not going to let this type of ultimatum fly. When he later discovers the attorney's reasons for this move — that the competing company stole proprietary technology from him — Harvey agrees to help out, but not for Rachel's admittance to the bar.  The attorney needs to make sure that happens because it is right. 
Harvey eventually tells Mike he found a way to allow him to practice law again. Mike initially refuses to take part in the collusion to drive a company's stock price down. But after Oliver's latest debacle in court, Mike decides that he is in for the plan. That didn't take too long did it?
"The Donna"
Donna has a cool story arc in this episode. After years of being a fixer of everyone else's problems, Donna is given a chance to capitalize on her innate awesomeness. Pearson Specter Litt's loyal IT man, Benjamin, played by recurring guest star David Reale, approaches Donna with a business opportunity — he has been creating a device that can mimic Donna's ability to say the right thing at the right time, every time. The device's name? "The Donna" (yeah, she's awesome). 
While Donna initially has quite a bit of fun with the device — talking to it and letting it answer questions for her — she eventually realizes that while it is a cute joke, it fails to capture her intuition, empathy and heart. Fortunately, the arc does not die there, as Benjamin tells Donna that with her help, he believes it is possible for "The Donna" to learn from her heart as well. (Don't worry, Suits is not likely going down a Westworld path.)
Going forward, this could be a fun storyline for Donna. Should the device take off, it would be interesting if she decided to leave Pearson Specter Litt to focus on a new business. That is pure conjecture, but it could lead to some rich conflict with Harvey, who we know has a hard time adjusting to people leaving him. 
Verdict
"Teeth, Nose, Teeth" was definitely a loaded episode. In addition to everything we have discussed, Louis has to wrestle with the idea of his fiancée's ex coming to her sonogram. Louis continued to show real growth, though, agreeing to allow Tara's ex to attend, while also eliciting Harvey's advice on the matter. 
For Rachel's issue, Louis deferred to Harvey after recognizing that he is better at getting those type of things done. Of course, Louis does have a bit of a meltdown when the ex-boyfriend cancels his trip, but quickly makes up for it with an apology toward the end of the episode. 
I have really enjoyed the back half of Suits' sixth season. In the past, the series has come very close to becoming stale, continuously bringing up Mike's fraud and then finding a way around it (and repeating). Getting rid of the status quo has kept the series fresh, interesting and highly engaging. While I believe that Mike's path back to becoming a lawyer may be a bit rushed (as was the ease with which he found employment), I understand why it needs to happen. 
Harvey and Mike need to be working together. Should Mike gain admittance to the bar, I hope he sticks with working at a clinic rather than returning to Pearson Specter Litt. But for the next few episodes it will certainly be great to see Mike and Harvey back together, wheeling and dealing (queue awesome intro music). 
Suits continues with season six, episode 14 on Wednesday, Feb. 15 at 10 p.m. Eastern on USA. 
Mic has ongoing coverage of Suits. Please follow our man Suits hub here.