How to love your job and get the best salary: 'The Payoff' podcast has answers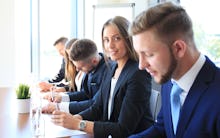 Check out the latest episode of The Payoff — Mic's newest podcast, packed with financial news you can use, industry insights and simple explanations of how events in the worlds of business or economics affect your wallet — hosted by Antonia Cereijido and Chris Duffy.
This second episode is all about careers, jobs and getting that bigger paycheck you know you deserve!
We help demystify salary negotiation, talk through the importance of the U.S. Labor Department's monthly jobs report and discuss industries with promising future hiring growth.
Plus, we chat about other workplace topics like the meaning of company culture — and the value of loving what you do — with Alex Cavoulacos, co-founder of millennial career site The Muse, and co-author of the forthcoming book, The New Rules of Work.
And if you can't get enough of The Payoff? Listen to our first episode, all about how to get better with the money you have.
Subscribe to The Payoff on iTunes, Google Play or wherever you listen to podcasts. Please rate and leave a review, and stay tuned for new episodes every other Wednesday.