Netflix 'Magic School Bus' reboot: 6 reasons why Kate McKinnon is the perfect voice for Ms. Frizzle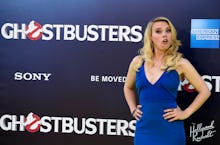 Fasten your seat belts and get your permission slips signed. The Magic School Bus is taking off again. 
The Netflix reboot of the animated series was originally announced in 2014. Producer Stu Stone, who was the voice of fifth-grader Ralphie in the '90s show, will return to the story and promised numerous star cameos in the series. But arguably the biggest star of all will be the woman who voices Ms. Frizzle — none other than Emmy-winning Saturday Night Live star Kate McKinnon. 
The adaptation of the children's books by Joanna Cole and Bruce Degen first premiered in September 1994 and ran for four seasons with Lily Tomlin voicing the teacher. The popular series ranked among the highest-rated children shows on PBS. The reboot, which will feature computer-generated animation, will focus on modern issues like STEM education.
McKinnon has shown her comedic chops on Saturday Night Live since 2012, bringing her co-stars and guest hosts to tears with her deadpan humor, and her fame has skyrocketed in the past years thanks to her impression of Hillary Clinton and her star turn in the all-female Ghostbusters movie. Wacky and adventurous, McKinnon is the perfect person to voice the iconic teacher. And, given her famous impression of Clinton, and the recent appointment of Betsy DeVos as secretary of education, it's only natural she will help save the state of education.  
She's already voiced animated movies 
McKinnon has already provided voices for characters in the Angry Birds movie as well as episodes of The Simpsons and Family Guy. 
She can sing 
Ms. Frizzle's character has given up life as a rising star musician so she could be a teacher, so some song and dance numbers in the episode seem inevitable and, with McKinnon on hand, they will certainly be entertaining. 
And she can rap! 
The musical possibilities for the series are endless. 
She can transform herself into anyone 
The 33-year-old McKinnon is unrecognizable when she plays the 83-year-old Supreme Court Justice Ruth Bader.   
Ms. Frizzle has a pet lizard 
Based on her incredibly improvised performance in Ghostbusters, just think of the fun McKinnon could have on Magic School Bus with a pet lizard.
She's completely fearless and will do anything for the sake of a good laugh 
And who's to say a Blobfish won't show up on an episode of Magic School Bus? 
Mic has ongoing TV coverage. Please follow our main TV hub here.