Elizabeth Warren on 'The View': "We are not going to get tired. We are here to stay."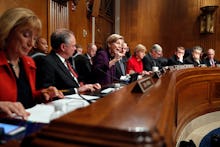 Sen. Elizabeth Warren (D-Mass.) appeared on The View Wednesday to talk about her experience being silenced by the Senate for attempting to read a 1986 letter written by Coretta Scott King opposing then-U.S. attorney Jeff Sessions' appointment to a federal judgeship.  
Sen. Mitch McConnell claimed Warren had violated the Senate's Rule 19, which forbids senators from "impugning" each other. In defense of Republicans' vote to silence Warren, McConnell said this:
"She was warned. She was given an explanation. Nevertheless, she persisted."
On The View, Warren defended her right to read King's letter, emphasizing that King's words are "directly relevant" to the question of whether Sessions should be confirmed as the country's attorney general. 
"This is not about confirming someone to be attorney general because they're polite," Warren said in response to a question about Sessions' colleagues' insistence that he is "kind, caring and polite." 
She added, "This is [about whether] someone can be trusted to uphold the rights of everyone in America — not just those who share his political opinions."
Warren admitted that efforts by Senate Democrats against President Donald Trump's Cabinet nominees may very well be futile, as they were when Vice President Mike Pence broke the tie to confirm Secretary of Education Betsy DeVos on Tuesday. 
But the Massachusetts senator maintained she's not conceding and urged Americans to fight with her. 
"They've got the votes," Warren said. "That does not mean we give up. It does not mean we lay down to die. It means we keep on fighting on the grassroots level."
She finished: "We are not going to get tired. We are here to stay."