Thanks to the Pentagon, the American taxpayer may get a new landlord: Donald Trump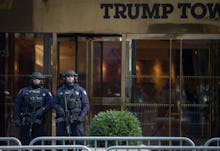 The Department of Defense is mulling whether to rent space in Trump Tower in New York, according to the New York Times, a move that could directly line President Donald Trump's pocket with taxpayer cash.
A Defense Department spokesman said the the space is "necessary for the personnel and equipment" to protect the Trumps in their personal residence in the tower, the New York Times reported. First lady Melania Trump and Trump's son Barron live there full time.
"In order to meet official mission requirements, the Department of Defense is working through appropriate channels and in accordance with all applicable legal requirements in order to acquire a limited amount of leased space in Trump Tower," Pentagon spokesman and Lt. Col. J.B. Brindle said in a statement, according to the New York Times' report.
It's not unusual for the Defense Department to rent space in a president's personal residence. The New York Times reported that the Pentagon had space near President Barack Obama's home in Chicago while he was living in the White House.
However, Trump personally owns Trump Tower. If the Pentagon leases space in the tower, Trump will directly profit off of their rent — which would be funded by taxpayer dollars.