Mitch McConnell shared laudatory MLK Day tweet a month before silencing Coretta Scott King's letter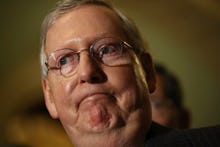 Less than a month before he blocked Sen. Elizabeth Warren (D-Mass.) from reading a letter written by Coretta Scott King on the Senate floor, Senate Majority Leader Mitch McConnell (R-Ky.) tweeted a mawkish Martin Luther King Jr. Day message praising King's husband, the civil rights leader.
"We acknowledge the undeniable impact of Dr. King's work [and] the many Americans who continue working today to make his dream a reality," McConnell wrote Jan. 16.
McConnell's tweet illustrates how easy it has become for GOP officials to invoke King's legacy when it makes them look sympathetic to his causes, then turn around and actively work against what he fought for. Sen. Jeff Sessions (R-Ala.) — the man whose reputation McConnell was trying to protect by silencing Warren on Tuesday — has been consistently attacked by progressives for impeding black voting rights, a centerpiece of King's work.
McConnell's hypocrisy was well-documented before his actions this week. Even after leading a years-long obstruction campaign aimed at blocking President Barack Obama's agenda — including refusing to hold hearings for Merrick Garland, Obama's Supreme Court nominee — the GOP senator tweeted Tuesday, "Thanks to extreme Democratic obstruction, [President Donald Trump's] Cabinet confirmations are the slowest since George Washington."
On Tuesday evening, McConnell invoked an arcane Senate rule to stop Warren from reading a damning letter Coretta Scott King wrote in 1986 to oppose Sessions' — then a U.S. attorney — nomination for a federal judgeship. 
"Mr. Sessions has used the awesome power of his office to chill the free exercise of the vote by black citizens," read King's letter. Warren had to leave the Senate chamber to read the rest of King's letter on Facebook Live.
Considering that Republicans have a majority in the Senate, it's almost inevitable Sessions will be confirmed Wednesday as the next U.S. attorney general. But if he works these next few years to further undermine civil rights — as many expect him to — Americans would be wise to remember how McConnell was more interested in party politics and paying superficial tribute to King than actually hearing the reservations of King's widow about Trump's nominee.