President Trump is bullying Nordstrom on Twitter for dropping Ivanka's brand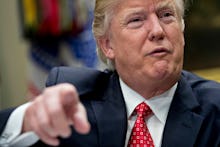 Department store Nordstrom recently dumped the Ivanka Trump brand, ending a six-year relationship over what the company said was poor performance. 
President Donald Trump had something to say about it.
On Wednesday, the president took to Twitter, as is his wont, to chastise the department store for cutting ties with his daughter.
Trump has a habit of tweeting about companies, with real economic ramifications. 
When he tweets negative things about a company, its stock tends to take a nosedive — just look at what happened to Boeing and Lockheed Martin after Trump dissed them on Twitter.
As for Nordstrom, its stock price has not plummeted. On the contrary, the company's stock was slightly up on Wednesday at time of writing. 
Nordstrom is one of a growing number of retailers — including HSN, ShopStyle and Jet.com — that are dropping Trump brands in response to boycotts and flagging demand. Nordstrom's official line was that Ivanka's products simply weren't selling and hadn't been for some time — it was not, according to the company, the personal decision the president suggested it was. 
And yet, it's hard to discount the effect that consumer discontent can have on sales figures. The viral campaign #GrabYourWallet, for example, encouraged consumers to reject brands bearing the Trump name. Nordstrom was a key target for #GrabYourWallet, and given the retailer's inability to move Ivanka's line off its shelves, it would seem that the boycott is having its intended effect. 
That's important when the country is run by a president who seems eager to use his office for his family's financial gain. On Wednesday, the New York Times reported that the Department of Defense might be renting space in Trump Tower — a conflict of interest that could be necessary if Melania Trump won't move out of the family's apartment there. 
Melania has also filed a lawsuit against Mail Media for describing her as a former "escort," compromising her "once-in-a-lifetime opportunity" to make huge sums of money off her personal brand through her highly visible position as first lady.
In short, the Trump family's business is all tied up in its patriarch's new and powerful position. It's hard to imagine that the president's Nordstrom lament was just an idle remark cast into the Twittersphere, and not a pointed attempt at taking its business down a peg. Consumers, however, seem to be learning quickly that if the president is going to treat the country like his personal company, their best move is simply to keep their wallets closed.