Samsung's battery supplier caught fire — but don't worry about the Galaxy Note 8 (yet)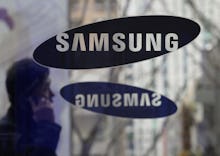 A fire broke out Wednesday at a Samsung factory in China that produced the batteries for the now-notorious Galaxy Note 7. Battery factory Samsung SDI said a "minor fire" was quickly put out in a plant in the northern Chinese city of Tianjin, Bloomberg reported. 
Images of the fire first appeared on Weibo, a Chinese social media platform similar to Twitter, showing black smoke emerging from a facility.
Samsung SDI spokesman Shin Yong-doo confirmed the incident, Reuters reported. He said there were no casualties and the fire did not impact production; it supposedly took place at a waste depository and not a production facility.
The Tianjin Fire Department, which reportedly sent out 19 trucks and 110 firefighters, has revealed the source of the fire: batteries. On its verified Weibo account, the local Wuqing branch of the fire department said the "material that caught fire was lithium batteries inside the production workshops and some half-finished products," Reuters reported.
Samsung SDI, which has five production centers, was one of two battery suppliers for the Note 7. The South Korean-based Samsung issued a self-imposed recall of more than 2.5 million Note 7s across 10 countries in September after reports of handsets overheating and catching on fire. The voluntary recall was followed by an air travel ban by the Federal Aviation Administration and an official recall by the U.S. Consumer Product Safety Commission.
Customers were offered replacement Note 7s with batteries built by a different manufacturer. When these devices were also found to overheat and catch on fire, Samsung opted to discontinue the Note 7. After dedicating a team of 700 to test 200,000 phones and 30,000 batteries, Samsung issued a report identifying two separate battery problems from two suppliers: Samsung SDI and China's Amperex Technology Ltd. The incident cost Samsung $5.3 billion in operating profit.
Samsung SDI is slated to manufacture batteries for Samsung's next smartphone release — the flagship Galaxy S8 — later this year. The company has reportedly invested around $131 million (at 1,143.79 won to the dollar) to improve product safety.