'For Honor' Open Beta Start Time and End Date: How long is the 'For Honor' open beta?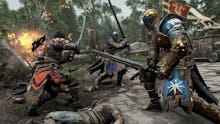 Now that you can preload the For Honor open beta, you might be wondering when you can actually play it. After all, a beta that doesn't work is just a 27GB digital paperweight on your console's hard drive.
Here's everything you need to know about the For Honor open beta start time, end date and how long it will last.
For Honor open beta start time and end date
According to VG247, the For Honor open beta starts 9 a.m. Eastern on Thursday and ends at 5 p.m. Eastern on Sunday. That gives you roughly three days to hack, slash, sidestep and riposte your way through online opponents in the game's multiplayer modes. 
Since the full game will be released Feb. 14, think of this as a limited demo to get your feet wet before jumping into the real thing. Take the opportunity to figure out if you're best as a viking, samurai or knight.
More gaming news and updates
Hungry for more video game news? Check out the latest from Mic, including a recap of the Halo Wars 2 beta, a breakdown of the latest Diablo 3 update, the newest roster addition to Injustice 2 and a closer look at the Pokémon Go Red Scale rumor.