Here's how Jeff Sessions would impact immigration, work visas and more as attorney general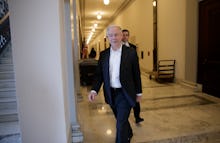 Out of all of President Donald Trump's cabinet appointees, Jeff Sessions is perhaps the most controversial. From his perch as attorney general, he'd essentially be the top law enforcement official in the country. Some of his past statements, especially on issues regarding race and civil rights, have caused worry among progressive lawmakers and activists.
With the Senate expected to vote on Sessions' confirmation by the end of the day Wednesday, here is a look at the impact he could have on five important issues during his time heading the Justice Department:
Immigration
Sessions is a hard-liner on immigration, opposing any amnesty for undocumented immigrants and opposing former President Barack Obama's executive orders helping undocumented residents.
Work visas
Not only does Sessions want to curb illegal immigration, he wants to make it more difficult for skilled workers to come to the United States legally. As a senator, Sessions criticized the H1-B visa program, mainly used by tech companies to bring in highly skilled workers, arguing the program takes away jobs from American workers.
Marijuana
Sessions is unflinchingly supportive of marijuana prohibition. In 2016 he said that "good people don't smoke marijuana," according to McClatchy, and pot businesses in California are worried that a federal crackdown could be coming.
Voting Rights
Again, Sessions is a staunch conservative on voting rights. He supported the 2013 Supreme Court ruling ending a key provision of the Voting Rights Act that required states with a history of voter discrimination to gain approval for changes to voting laws.
LGBT issues
Surprise, surprise: Sessions takes a hard right stance here, too. Throughout his career, Sessions has consistently opposed equal rights for LGBTQ Americans, including on issues of marriage.