'Fifty Shades Darker': Who is Jack Hyde? 6 things to know about the actor playing the villain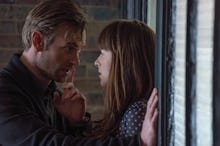 Jamie Dornan isn't the only one playing a troubled — and troublingly — handsome man in Fifty Shades Darker. Eric Johnson has joined the chaotic story of Anastasia Steele and Christian Grey as Jack Hyde, Ana's boss at Seattle Independent Press offices. 
But Jack isn't just Ana's boss — he's also very interested in his shy, young assistant and he repeatedly lets her know this. And, it turns out, he and Christian have a history that goes back to their respective childhoods. Christian Grey's nemesis is hoping to settle some scores, and he will do almost anything to make that happen. 
Johnson has starred in The Knick, Orphan Black and Flash Gordon before he was cast as the obsessive editor. Read on to learn about the man who will play the tall, blonde and handsome rival to Christian Grey when Fifty Shades Darker hits theaters on Friday.
He hadn't read the books
Despite the trilogy selling more than 100 million copies worldwide, Johnson had never read the best-selling story. But, after being cast, he completed a crash course. "You get sucked into these things," he told Access Hollywood. "It's a pretty good fantasy story." 
So his wife helped him with the part 
He said she encouraged him to take the part and then told him all about the story and his character. "She was like my Coles Notes go-to for everything Fifty Shades," he told Access Hollywood. 
He kept the part a secret from his daughter 
Johnson and his wife have a nine-year-old daughter, but they did not tell her much about his role. He described the dialogue, saying, "No you're not allowed to see it, because Daddy's not very nice."
Playing the villain got under his skin 
Johnson said playing the villainous editor had an impact on him.
"The things I really struggled with were the more violent things, just being violent toward women. It's not something I've really done [on screen] before and that felt awful... [The films] got darker and more violent, and those were the things that [made me] feel dirty at the end of the day. I'd take a shower and wash all the grossness."
But he still had fun making the movie 
"I didn't really know what to expect, but we had a lot of fun," he told Variety of playing his "slowly unraveling" character. "That I didn't expect."
He was an (adorable) child actor
Johnson played the young Tristan in the 1994 film Legends of the Fall. The adult incarnation of his character was played by Brad Pitt.