'Kingdom Hearts 3' Release Date Rumors: 15th-anniversary event could bring more news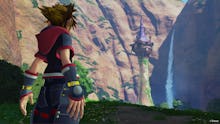 Considering that fans have been waiting for Kingdom Hearts 3 in some way or another since 2005, there's shockingly little information about the game out there. We know it exists and that it will come to PS4 and Xbox One eventually, but we still have no idea when exactly it's coming out, or when we can expect to hear more about it.
It could be nothing, but there is a major milestone coming up that Square Enix could use as an opportunity to share more Kingdom Hearts 3 details — and maybe even a firm release date.
Kingdom Hearts Release Date: More news coming soon?
iDigitalTimes made the solid point that March 28 is the 15th anniversary of the Japanese release of the original Kingdom Hearts game. Since Square Enix has very recently used anniversaries to tease upcoming games, they could ostensibly do it again for Kingdom Hearts 3.
Kingdom Hearts 2.8 came out in January and gave us some major hints at what Kingdom Hearts 3 could bring, according to a helpful explainer from IGN. Perhaps next month we will get even more information about this long-awaited sequel.
In the meantime, check out this 2015 Kingdom Hearts 3 trailer while you wait.
More Kingdom Hearts 3 news and updates
Read more about what game director Tetsuya Nomura has to say about Kingdom Hearts 3, what to expect from Kingdom Hearts 2.8 and overall info about KH3. Or check out this massive Kingdom Hearts-themed clock, if you're into that sort of thing.