KFC's fried chicken crust pizza is exactly what we deserve in 2017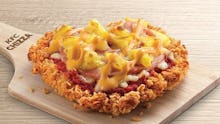 You might be craving some comfort food to deal with the downright depressing news cycle.
Some uplifting news: You no longer have to choose between friend chicken and a cheesy pizza. KFC has combined the best of both worlds with its latest offering. Enter: the chizza, a pizza built upon a piece of fried chicken instead of bread crust. 
Feast your eyes on this artery-clogging bad boy: 
The chizza debuted in the Philippines in 2015, according to Eater, explaining the poultry-packed take on 'za debuted Wednesday in Singapore. A video from the KFC Singapore Twitter account showed off how the chizza is made. 
But don't judge a fast-food item by its enticing marketing images. Those who have ordered the food portmanteau have shared what the personal pizza really looks like on Twitter. It ain't pretty.
So in a nutshell, KFC has mastered the dark art of hyped food mashups that overpromise and underdeliver. In 2017, false expectations are just par for the course, right?
If you're still feeling tempted by the idea and you live in the United States, you'll need to be patient. KFC has not mentioned whether the daring dish will be coming the United States and it did not immediately respond to Mic's request for comment. 
Until the chizza debuts stateside, chizza-craving Americans can DIY at home by following this inventive recipe from Thrillist. Perhaps a chizza food coma will last four years, who's to know?