LaMelo Ball scores 92 points in high school basketball game, perhaps saving Black History Month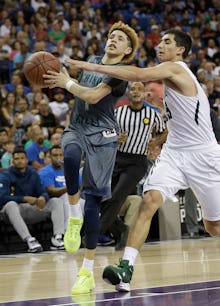 Black History Month has been kind of a wash this year, what with President Donald Trump pretending to know who Frederick Douglass is and Sen. Jeff Sessions (R-Ala.) on the verge of becoming the most anti-civil rights U.S. attorney general in recent memory.
But don't tell LaMelo Ball that. The 16-year-old Chino Hills, California, sophomore dropped a cool 92 points in Chino Hills High School's game against Los Osos High (Rancho Cucamonga, California) on Tuesday night, inadvertently rescuing February from the jaws of Trump's White House and joining Beyoncé's pregnancy announcement in the Black History Month 2017 Hall of Fame (not an official hall of fame).
Here are the highlights:
LaMelo — who scored all but 54 of his team's 146 points — comes from a basketball family. His older brother, LiAngelo Ball, is a senior at Chino Hills High, and their oldest brother, Lonzo Ball, plays at the collegiate level for UCLA.
The sophomore's scoring explosion was a career high, but astoundingly, it wasn't the highest-scoring performance ever in an American high school hoops game — or even a high school game in Southern California. In 1982, Cheryl Miller of Riverside Polytechnic High School scored 100 points in a single game. In 1990, Lisa Leslie — later of the Los Angeles Sparks — dropped 101 for Morningside High in Inglewood. In 2003, Tigran Grigorian of Armenian Mesrobian School in Pico Rivera scored 100 points as one of only six players on the floor for his team.
LaMelo Ball joins elite company nonetheless. And his heroics during this worrisome moment in black American history marks a bright spot worth celebrating.