Kirsten Gillibrand on #LetLizSpeak: "It's wrong to silence a woman"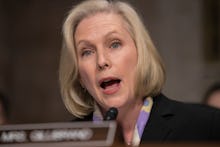 Sen. Kirsten Gillibrand (D-NY) lashed out at Mitch McConnell and Senate Republicans on Wednesday for silencing Elizabeth Warren (D-MA) on the Senate floor, calling the move an "outrageous" attack on a fellow woman in Congress.
"I think it was intentional and planned, and they targeted her specifically because she's so effective and so strong," Gillibrand said in an interview. "It's wrong to silence a woman — singling her out was wrong."
On Tuesday evening, Senate Majority Leader Mitch McConnell used an arcane rule to prevent Warren from reading a Coretta Scott King speech on the Senate floor to oppose the confirmation of Sen. Jeff Sessions (R-Ala.) as attorney general. In his justification for silencing Warren from speaking, McConnell said, "She was warned. She was given an explanation. Nevertheless, she persisted."
"In light of the statements President Donald Trump has made about women in the past, it was particularly offensive to shut Elizabeth down in the middle of a speech that was no different than many other colleagues,' whose speeches were not interrupted," Gillibrand added.
The move backfired, attracting the ire of progressives and galvanizing feminists to rally behind Warren online:
Various Democratic male senators also read the same speech on the Senate floor Wednesday morning in support of Warren, including Sen. Tom Udall (D-N.M.) and Sen. Bernie Sanders (D-Vt.).
Warren ended up taking to Facebook Live to broadcast herself reading the speech. As of 3:30 p.m. Wednesday, nearly 8 million people had watched the video. It also sparked a vociferous response from leading feminist voices Wednesday afternoon, as well as the creation of numerous trending hashtags, such as #LetLizSpeak and #ShePersisted.
Gillibrand has been a vocal advocate for getting more women engaged in politics and elected to Congress. She said the feminist response to Warren on the heels of the Women's March has been heartening.
"I love it," she said. "It's important for women in the Senate to be heard."
Gillibrand, who has emerged as a progressive leader after voting against every one of Trump's Cabinet nominees with the exception of South Carolina Gov. Nikki Haley for UN Ambassador, said she will continue to speak out against Sessions. A vote on his nomination is expected sometime Wednesday.
"His record does not support someone who will stand up for civil rights, women's rights, LGBTQ rights or civil liberties," Gillibrand said. "He will not be a defender of the voiceless. He will not stand up to President Trump when he's wrong. He will not be able to lead that department effectively."