Travel Ban Hearing: Justice Department argues Trump's actions shouldn't be reviewed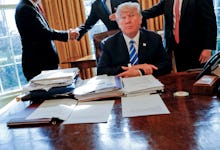 During a telephone hearing on Tuesday night to assess whether to lift the country-wide block on President Donald Trump's travel ban, a lawyer for the United States Justice Department argued that federal judges had overstepped their power in suspending the executive order in the first place.
Speaking of the president's jurisdiction over matters relating to national security and immigration, the lawyer, August Flentje, said that the Washington state lower court that had called the ban into question had acted out of turn.
"This is a traditional national security judgment that is assigned to the political branches and the president and the court's order immediately altered that," Flentje argued, according to CNN.
But the appeals court judges reportedly pushed back, pressing Flentje on whether or not he could justify why the seven countries affected by the ban — Iraq, Syria, Iran, Libya, Somalia, Sudan and Yemen — were chosen.
"Has the government pointed to any evidence connecting these countries with terrorism?" Judge Michelle Friedland asked, according to CNN.
During the hearing, Judge William Canby, one of a three-judge panel on the Ninth Circuit Court of Appeals, similarly asked Washington state Solicitor General Noah Purcell if he would be able to prove that Trump's temporary ban was created in the spirit of unfairly discriminating against all Muslims.
"You don't have to prove it harms every Muslim," Purcell countered, "you just need to show the action was motivated in part by animus."
Although the Ninth Circuit is known for leaning liberal, Kari Hong, an assistant professor at Boston College Law School, told CNN that Tuesday's hearing was standard fare.
"The Ninth Circuit is often called a liberal court, but the issues they have to figure out today are dry and technical ones relating to standards of review and the deference owed to the lower court," Hong said. "Those issues will be resolved without regard to political preferences."