Bernie Sanders slams Senate for silencing Elizabeth Warren, reads letter she didn't get to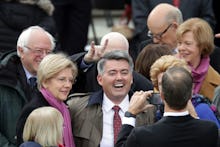 Bernie Sanders took center stage Wednesday during the Senate confirmation hearing for Jeff Sessions as attorney general, first slamming the Senate for silencing fellow Senator Elizabeth Warren, then reading the Coretta Scott King letter she was barred from reading. 
Sanders called the Senate's censure of Warren "an outrage" and stated that "all points of view" must be heard on the matter, People reported. He then read the 1986 letter King penned in an attempt to stop Jeff Sessions from being appointed to a federal judgeship. 
In her letter, King explained that Sessions "used the awesome powers of his office in a shabby attempt to intimidate and frighten elderly black voters." 
Sanders also tweeted that Senate Majority Leader Mitch McConnell, who used a little-known Senate rule to silence Warren, owed her an apology. 
Rule XIX, the rule McConnell invoked against Warren, states that "No Senator in debate shall, directly or indirectly, by any form of words impute to another Senator or to other Senators any conduct or motive unworthy or unbecoming a Senator." The rule is very rarely enforced.
Sanders wasn't the only one allowed to read the offending letter after Warren was barred from reading it. According to a tweet from Senator Jeff Merkley (D-Ore.), four male senators were allowed to read from King's letter. 
"Why silence the only woman?" Merkley asked in the tweet.  
Warren appeared on The View Wednesday to speak about the incident. When asked if this would have happened if she were a man, Warren responded, "I can't know, but I'll tell you this: You're reminded how hard the struggle is."