'Pokémon Stars' Switch: Release date rumors get a boost from the Nintendo 3DS games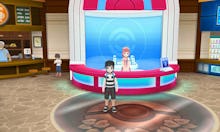 The rumored Pokémon Stars game on Nintendo Switch has yet to be confirmed, but a counterpart game to Pokémon Sun and Moon is expected by many to hit the Switch. Along with bringing new content to the series, a Pokémon Stars game for Nintendo's new console would mean better graphics thanks to the system's 720p display. with it a graphical update. 
Like we said, Pokémon Stars is still just a rumor, but it looks like the current 3DS games hinted at its arrival.
Pokémon Stars rumors: Sun and Moon hints at possible mission to the stars
Reddit user ronnknee discovered a weird cinematic that occurs in Pokémon Sun and Moon following the Pokémon Bank update. To activate the scene, put Solrock or Lunatone in your party and fly to Ula'ula Island's Ruins of Abundance. Head south to Haina Desert. Follow the directions on Reddit to find an elderly gentleman in a red shirt, prompting the peculiar new cutscene. 
If you don't feel like doing the work you can watch it here:
The old man is without a doubt strange. The interaction ends in you receiving a Moon Stone sure — which is nice — but it still wigs us out. Most notable, though, besides his claims of finally being able to go back to space, is the mention of "star pulses" he received 30 years ago. Could we learn more about this in Pokémon Stars for the Switch? If so, the third game in the series take place almost half a century in the past?
Pokémon Stars release date rumors: Could the Nintendo Switch game release in 2017?
Pokémon Stars has yet to be confirmed. But with E3 2017 coming up in June (and now open to the public), we could see the Switch game revealed there ahead of a launch later in the year.
It's definitely possible, but it still seems unlikely. The addition of Pokémon Stars to the Switch launch-year lineup would be stellar (every pun intended). Then again, already-confirmed games like Super Mario Odyssey, Splatoon 2, Mario Kart and Legend Of Zelda: Breath of the Wild should offer plenty of variety in the Switch's first year, in which case we might not see a new Pokémon game for the system until 2018.
Pokémon Stars release date rumors: Why we're so excited
Rumors aside, Pokémon on the Nintendo Switch would look damn good. Reddit user Shigata Ichikuchi recently dreamed-up what a proper HD Pokémon title could look like (image above). Instead of relying on two screens like on the 3DS, the bottom screen map can be found in the lower right corner.
Another beautiful mock-up of Pokémon Stars from Twitter user initPragma really captures how great a high-definition version of Pokémon Sun and Moon could be.
It's fun to obsess over the mockups, but for now, Pokémon Stars is still just a rumor. It's possible we could learn some concrete details from Nintendo later this year, but until then we'll keep our eyes peeled for any more news, rumors or gorgeous fan art worth sharing.
More Pokémon Sun and Moon news and coverage
If you're serious about 'Pokémon Sun and Moon,' you'll want to read up so you can be the very best. Check out our guides for picking the right starter, 'Pokémon Sun and Moon' cheats, using a damage calculator, how to catch the new legendary Pokémon, how to customize your character, how to trade, how  to find all the evolution stones, how to use QR codes, all the Team Skull passwords, which Pokémon to catch early on and picking between 'Pokémon Sun and Pokémon Moon.'