I listened to Katy Perry's "Chained to the Rhythm" through a disco ball in NYC — it was pretty epic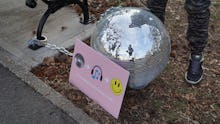 NEW YORK CITY — To promote her upcoming single, "Chained to the Rhythm," reportedly dropping Friday, Katy Perry invited fans to play an odd game. 
Perry, who hasn't released a full length album in nearly four years — an eternity in pop music time — set up a global scavenger hunt, chaining large disco balls in parks around the city and setting each of them to play snippets of her latest offering on loop. All fans needed to do was bring headphones, plug in and immediately their lives would be flooded with new, tropical Perry.
I couldn't resist. I tracked that sucker down in Williamsburg's McCarren Park and drank deep of its sweet, syrupy pop hooks, and I had a great fucking time.
I should preface: I'm not a Perry fan. I've enjoyed some of her past oddball antics — from doing herself up with whipped cream nipple spritzers in her "California Gurls" video, to turning herself into an alien and forcing Kanye West to make interstellar fuck puns on "E.T." 
She has fun with her image, but trying to stomach a full LP of hers has proved just a little too nauseating in the past. I am a sucker for screwy interactive promotional antics. Bon Iver's impromptu boom box listening parties? Down. Young Thug's Slime Season 3 coffin walk in SXSW? Yup. Rap stars playing professor to intellectualize their latest offering? Game. Always.
All that being said, I think Perry has a winner on her hands here.
Fans looking to make similar pilgrimages will only get treated to a short loop of what sounds like the song's hook and the bridge, but it's enough to know that the radio will go wild for it. 
We haven't had a straight up carefree piece of vocals-driven pop radio bubble gum in what feels like years. With only a brief pause for Adele's "Hello" pandemonium, a proper diva power ballad, the rest of the No. 1 singles of the past year or so have put production first — from Justin Bieber's Purpose hits to the Chainsmokers' 1738 biting. "Chained to the Rhythm" merges the best of both worlds. It's got that tropical, pre-packed Caribbean instrumental — which has been all the rage since Diplo thrust his Major Lazer project into the limelight and Rihanna introduced white people to the mumble — and Perry's powerhouse vocals. 
"Turn it up, it's your favorite song," Perry will tell you, if you go to listen. "Dance, dance, dance to the disco show." Sure, why not? 
Around that chained up mirror ball was a party. Folks were swapping Perry memories, taking crouching selfies with it — a task easier said than done. 
One girl was literally parked on the bench, using the opportunity as a non-virtual LinkedIn asking people who came by if they were working in media jobs and if their companies were hiring. The powwow attracted a long hair in leather jacket, a scarfed up business professional and a sports fan, who all dipped their headphones for a quick bop.
It's always the best part of these kind of gatherings. Common ground is immediately established. We all came miles to link our ears up to a disco ball and celebrate the first major pop offering of 2017. But I guess that's always what pop does: make the barrier to entry as low as sonically possible, so people who otherwise would have little to nothing in common can sync their minds and chat about life's lighter sides. It's worth the trip.
One recommendation: Bring your quietest headphones because that Perry just blasts out of that little disco ball. Enjoy the music but save yourself the cilia damage.