Neil Gorsuch calls Donald Trump's attacks on judge "disheartening," "demoralizing"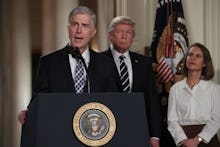 Neil Gorsuch, President Donald Trump's nominee for late Justice Antonin Scalia's slot on the Supreme Court, confirmed on Wednesday he told Connecticut Sen. Richard Blumenthal the president's attacks on the judiciary are "disheartening" and "demoralizing," CNN reported.
A spokesman for Gorsuch, Ron Bonjean, confirmed the nominee used those two words in a discussion with Blumenthal over Trump's repeated attacks on members of the federal judiciary involved in reviewing his sweeping entry bans on refugees and nationals from seven Muslim-majority countries.
"He said very specifically that they were demoralizing and disheartening and he characterized them very specifically that way," Blumenthal said Gorsuch told him during a meeting. "I said they were more than disheartening and I said to him that he has an obligation to make his views clear to the American people, so they understand how abhorrent or unacceptable President Donald Trump's attacks on the judiciary are."
Trump has repeatedly issued broadsides on members of the judiciary he views as opposing him in various cases, most notoriously questioning whether a judge in two lawsuits against Trump University, Judge Gonzalo Curiel, was biased against him due to Curiel's Mexican heritage. But Gorsuch was specifically responding to Trump's attacks on Washington state-based federal Judge James Robart, who the president called a "so-called judge" on Twitter for ordering a stay on some parts of the ban.
Trump later tweeted if a terrorist attack occurs while Robart's stay on his executive order was in effect, "blame him and the court system."
The remarks are deeply unusual, not necessarily due to any breach of protocol by Gorsuch but because Trump's unprecedented attacks on the judiciary would put any Supreme Court nominee in an awkward position.
As CNN noted, the comment could help Gorsuch in his upcoming confirmation process if his willingness to criticize Trump reassures moderates he is willing to be a check on the president's power. But it could also complicate the process; Trump is notoriously sensitive to criticism, while Senate Democrats are sure to press the issue during hearings to see just how resistant a future Supreme Court Justice Gorsuch would be to pressure from Trump's administration.