Protesters rally to stop ICE officials from deporting Arizona woman who has lived in US for 21 years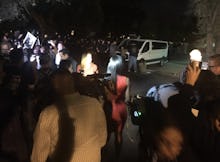 Protesters on Wednesday night blocked official vehicles attempting to leave a an immigration office in Phoenix where earlier in the day a woman had been arrested and possibly ordered back to Mexico after more than two decades in the United States.
Guadalupe García de Rayos, a 35-year-old mother of two American citizens, was taken into custody during a routine meeting with officials at the federal Immigration and Customs Enforcement office, the New York Times reported. On Thursday afternoon, CNN reported that García de Rayos had been deported, citing advocates involved in the matter. 
Rayos has been required to check in with ICE every year since 2008, when she was caught working under a fake Social Security number. The New York Times reported that the meetings were typically quick and routine, consisting of little more than "a brief review of her case and some questions." 
But after she was arrested on Wednesday, authorities "began procedures" to send her back to Mexico, according to the New York Times.
Soon after, protesters gathered at the office and tried to block vehicles from leaving, the local news site AZCentral reported. They chanted, "justice!" and "Power to the people! No one is illegal!" as her husband and two children watched. Her husband, who asked not to be identified because of his own immigration status, said he and his wife were brought to the U.S. when they were teenagers.
"Basically we are Americans," he said. "This is our country."
The New York Times reported that Rayos' daughter, Jacqueline, held a sign that read "not one more deportation" as a van carrying her mother left the ICE building. The van eventually made it out of the facility, but it was unclear if it was taking the detainees inside to the Mexican border or to a detention center.
According to AZCentral, about 200 gathered at the protest, which was organized by Puente Arizona. The group gained notoriety during the 2016 presidential campaign when it blocked roads to a campaign rally for Donald Trump. A total of seven people were arrested Wednesday night, including one man who tied himself to one of the van's front wheels.
Since taking office, Trump has moved swiftly to keep his campaign promise of deporting immigrants who lack legal status and who have been charged with crimes.
"We're living in a new era now, an era of war on immigrants," Rayos' lawyer, Ray A. Ybarra Maldonado, told the New York Times.
Feb. 9, 2017, 3:51 p.m.: This story has been updated.